On-campus alcohol violations down 26 percent
On-campus alcohol violations decreased by 26% from the 2020-21 calendar year, despite a sharp spike during the COVID-19 pandemic, according to TCU's annual Security Report & Fire Safety Report Notification released on Sept. 29.
An alcohol violation is a penalty given to the student for possession of alcohol in restricted areas.
According to the TCU Police Department, on-campus alcohol law violations that resulted in disciplinary action were highest in 2020, reaching 1,117 violations. But in the 2021-22 calendar year, only 834 violations were handed out. 
"The decrease in AVs is indeed noteworthy," said Craig Allen, executive director of Housing & Residence Life and Fraternity & Sorority Life. "I am not sure exactly what caused this, but I am sure COVID played a role." 
The consumption of alcoholic beverages is prohibited in hallways, stairways, elevators, lobbies, lounges, chapter rooms, recreation areas, restrooms and all other shared areas or community spaces located in university housing, according to the TCU Police Department. 
"Students need to know our alcohol policy and the consequences," Allen said. "Perhaps more importantly students need to think about making good decisions when it comes to alcohol use. There are often bad things that happen when students misuse alcohol, regardless of whether or not they get an AV at TCU."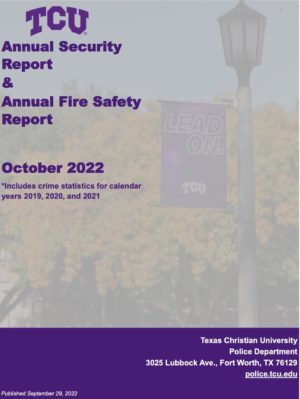 A source that wishes to not be identified due to the personal nature of this story received an AV during their freshman year.
"In 2020, I received an AV because I had some alcohol in my dorm," the source said. "Since I was in quarantine and bored I gravitated towards drinking more than usual."
When RAs perform routine room checks, they look for alcohol or other room violations. Resident Assistants are tasked with reporting alcohol violations to a Hall Director.
In the fall of 2020, Callie Kananen, a senior social studies major, was a freshman living in Clark Hall. She said her friends were all given an AV because they were drinking in their dorm room with loud music playing. 
"I think the loud music attracted the RA and once they opened the door the bottles of liquor were in plain sight," Kananen said.
Kananen said she thinks more students received violations during COVID because "nobody was really able to go out, so they spent their free time drinking in their dorms."
Violation amounts spiked in 2020 for a variety of reasons.
There were 1,041 students who received an AV in their housing facilities. The other 76 violations were given out around campus but still on TCU property. Only one student was arrested in 2020 due to possession of alcohol according to TCU PD.
Caroline Sahba, assistant director of the Counseling and Mental Health Center explained that there were more students at the SURS office in 2020 than ever before. 
"I think there was an initial increase in AVs given out in 2020 because students wanted to make up for any of the lost time they had during the early stages of COVID," Sahba said. "There were more eyes because of social distancing purposes so naturally people will get caught more because they are drawing more attention for the RAs." 
Sahba said violations are back to typical numbers because police officers' main priority isn't policing large groups of people anymore.
"The students once had the mentality of making up for lost time, but now we are slowly getting back to normal post-COVID," Sahba said.