Three women's basketball players to watch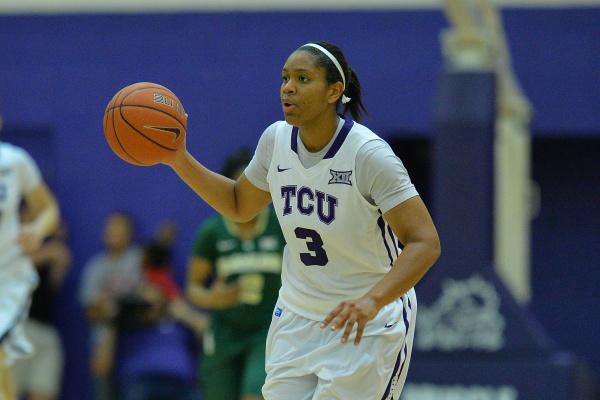 Here are three players to keep your eyes on during the women's basketball game against Sam Houston State at 6 p.m. tomorrow.
Zahna Medley, senior guard:
Zahna Medley is TCU's go-to player. When the team is in a bind and in need of a bucket, Medley is going to be the one with the ball in her hands. She led the team in  points per game (15.6), assists (129), 3-pointers (72), 3-point percentage (.381), free-throws (102) and free-throw percentage (.879) last season.
Medley also set the TCU single-season record in free-throw percentage (.879). She's been named All-Big 12 First Team for consecutive seasons, becoming just the fourth Horned Frog in program history to earn multiple first-team selections. Medley is the engine that makes this basketball team go.
Veja Hamilton, senior guard:
Veja Hamilton ranked second on the team with 11.3 points per game while also averaging 4.5 rebounds, 1.7 assists and 1.5 steals per contest. She led the team and ranked sixth in the Big 12 in field-goal percentage (.489), as well as shooting 51 percent from the floor in Big 12 play, ranking fifth in the conference.
Hamilton was an All-Big 12 Second Team selection last season. When the team needs a big play from someone other than Medley, Hamilton will be the one who makes that play.
Adeola Akomolafe, first-year forward:
Adeola Akomolafe has not recorded a single regular season minute yet in college basketball; however, she dominated the competition in high school. She led El Dorado High School in El Pasio to the L2015 District 1-6A championship, Bi-District 1-6A championship, regional quarter 1-6A championship (Sweet 16) and regional tournament semifinals (Elite 8). Translation: she has a winning pedigree.
Akomolafe was a three-time selection to the El Paso Times All-City First Team as a sophomore, junior and senior, and was a second team selection as a freshman, a 2015 El Paso Athletic Hall of Fame SISD Female Athlete of the Year, a 2015 UTEP Flo Hyman Award winner, a 2015 TABC All-State Academic Selection, a 2015 TABC All-Region selection, a 2015 McDonald's All-American Game and the 2015 District 1-6A MVP. A player with those types of accolades is almost a guarantee to succeed at the next level.