Rodeo Purple ticket package sold out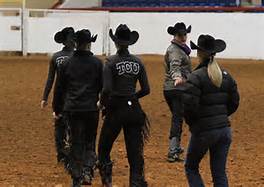 The Rodeo Purple package for the TCU Night at the Fort Worth Stock Show and Rodeo is sold out, but tickets for the rodeo can be purchased for $10 with a TCU ID.
The 4th Annual Rodeo Purple will take place on Jan. 28th at the Will Rogers Coliseum in the Stock Show Stagecoach room.
The Rodeo Purple ticket package for TCU Night at the Fort Worth Stock Show and Rodeo includes various events throughout the night.
Rodeo Purple package ticket holders have the option to experience line dancing with Superfrog, country music performances, BBQ, performances from TCU showgirls, a meet and greet with the equestrian team and more.
Although the Rodeo Purple package for this year is completely sold out, TCU students, faculty and staff can still attend TCU night.
Tickets are $10 with a TCU ID and there are a limited amount of tickets
Participants who purchased the Rodeo Purple package will be attending the dinner and entertainment aspect of the event which will take place from 5 to 7 p.m. Those who purchase tickets exclusively for the rodeo may arrive at 7 p.m., as the rodeo begins at 7:30 p.m.
Tickets for the rodeo can be reserved online at froglinks.com and can picked up at the Alumni Center anytime from Jan. 20 to Jan. 27.
The Kelly Alumni Center is located at 2820 Stadium Drive. People who present a TCU ID to purchase tickets can come during that week anytime Monday through Friday from 8 a.m to 5 p.m.