Frogs sluggish in 63-49 loss to Kansas State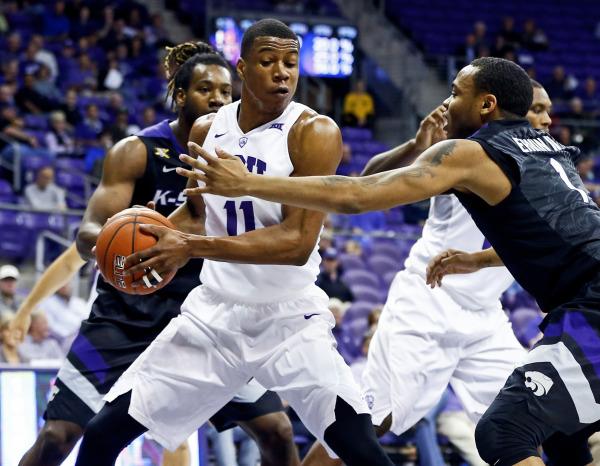 Published February 17, 2016
Men's basketball couldn't compete against Kansas State as TCU fell to the Wildcats 63-49.
With the loss, TCU now sits at 11-15 on the season and 2-11 in the Big 12 Conference.
TCU head coach Trent Johnson said within about the first six minutes of the game, he knew his team wasn't ready to play. He said the team's lack of energy and intensity was as bad as it has been all year.
"It was another one of our horrendous starts," Johnson said. "It was not very good."
Sophomore Chauncey Collins said the loss is discouraging because the team isn't competing to the best of their abilities.
"We're all on different pages," Collins said. "When we are [on] we look good, but when we aren't we don't."
Collins said he would like to believe that it's because the conference is so tough, but he doesn't think the team should be the last in the Big 12.
Johnson said it's contagious and tough when the team isn't doing well, and the responsibility is on him to get the team where they are playing right.
"Our fan base deserves better," Johnson said.
The Frogs shot only 25 percent from the field in the first half, making only six of their field-goal attempts.
Malique Trent led the Frogs in scoring with 13 points. Trent also ranks third in the Big 12 in steals. JD Miller and Collins also put up 11 points each.
Kansas State senior guard Justin Edwards had been a leader for the Wildcats coming into tonight's game. Tonight proved no different: Edwards put up 14 points and totaled four rebounds. But guard Barry Brown led the team in scoring by putting up 24 points on the night.
TCU travels to Ames, Iowa, to take on Iowa State on Saturday at 6:30 pm.Johnson said this game was a good match-up, but TCU just wasn't ready to play. He said the Frogs have a few games left, so they have to fight hard and finish the regular season with a positive light.