Schlossnagle joins Gary Patterson as winningest coaches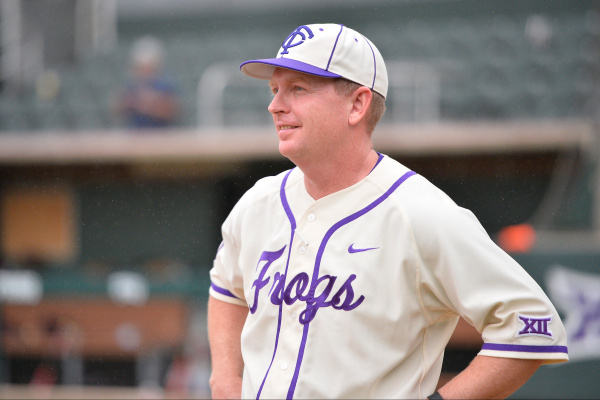 Published February 22, 2016
TCU head baseball coach Jim Schlossnagle is not dwelling on becoming the team's winningest coach, he's just looking forward to the season ahead.
In the Loyola Marymount series in late February, Schlossnagle suffered a loss in the series and season opener, but bounced back, shutting the Lions out twice and winning the series 2-1. With the final win, came something he, and the rest of TCU, won't forget. The win marked Schlossnagle's 518th win, surpassing Lance Brown as the baseball coach with the most wins.
He now joins head football coach Gary Patterson as the winningest coaches in TCU history.
How Schlossnagle got here
Schlossnagle was hired at TCU in the summer of 2003 and his main goal is to take the TCU baseball program to the top. His accomplishments include: hosting NCAA Regionals and NCAA Super Regionals and taking the Frogs to the College World Series. He said he always looks forward to every new season to see what can come out of his players.
"My favorite thing is just putting together and being a part of a team," Schlossnagle said.
In 2010, he got his very first glimpse of what it looks like to have a team that can come together. That year he lead the team to TCU's first College World Series appearance.
And his hard work didn't stop there. TCU has become one of seven national programs that have appeared in three of the last six College World Series.
Pitcher Mitchell Traver said Schlossnagle says that the "players write their own lineup," by the amount of hard work the players put in themselves. But Schlossnagle's time on and off the field is just as important.
TCU Director of Intercollegiate Athletics Chris Del Conte said Patterson and Schlossnagle instill values into their players. He said when you think of the professional players that come from TCU, they always come back to train. He said them spending their time here, rather than in their own cities, shows the type of culture the coaches created in their programs.
"When someone comes to TCU it's not a four-year decision," Del Conte said. "It's a full-time decision. And they [both coaches] have exemplified that."
Under Schlossnagle's reign, Cody Jones became the first Horned Frog to become the Big 12 Conference Player of the year. And Connor Wanhanen provided hope as he earned Big 12 Freshman of the Year last season.
The work that Schlossnagle has done with the TCU baseball program since he arrived has led him to a contract for head coach through 2020.
Schlossnagle said he has always wanted to coach here.
"This was my dream job for a long, long time," he said. "So to be here 13 years is a blessing."
Patterson's Journey
Just like Feb. 21 was an important day for Schlossnagle, Sept. 8, 2012 had the same feeling for Patterson.
It was the first time the Frogs got to play in the new Amon G. Carter Stadium since the renovations, but that wasn't what made it memorable. It was Patterson's 110th win. This mark gave him one more win over Dutch Meyer, earning Patterson the title of winningest football coach.
Since Patterson came to TCU, he has become synonymous with TCU football. Prior to Patterson's arrival on campus, TCU had just four 10-win seasons in its history. Now, the Frogs have won at least 11 games in nine of the last 14 seasons.
Patterson has won 20 National Coach of the Year honors in his 15-year head coaching tenure at TCU.
As TCU's head coach, Patterson has had 36 players drafted and 82 who have participated in NFL camps.
Del Conte said TCU's coaches are ambitious. They wake up each morning wanting to go out and get a national championship, he said. That ambition permeates not only other TCU athletic programs, but TCU itself.
"Athletics is a front porch," Del Conte said. "It allows you to tell your story. Athletics and our brand and our media attention has brought great attention to our institution."