TCU completes comeback win against Gonzaga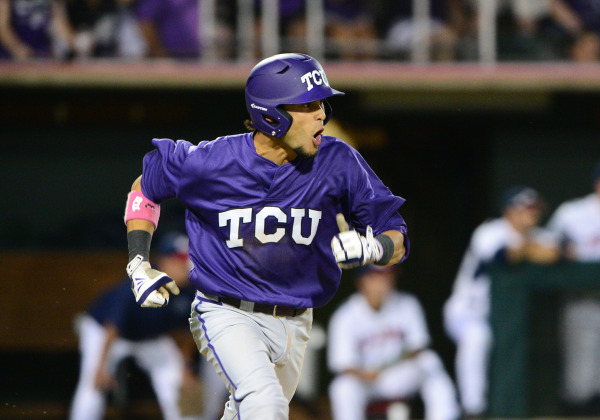 Friday's win for TCU was a breezy, 7-0 rout of Oral Roberts, in which the Frogs never seemed in danger of losing a lead.
Saturday night's win against Gonzaga was…whatever the opposite of that is.
The Frogs clung to a 2-0 lead for three innings before a Jeffrey Bohling home run gave Gonzaga a 3-2 advantage in the bottom of the 6th and chased Jared Janczak off the mound. Janczak, a righty, had been striking out a lineup full of lefties with his breaking ball on the left side of the plate all game.
With Bulldog pitcher Eli Morgan finding a groove in the middle innings and the TCU bats quieting down in response, the Lupton Stadium crowd began to grow noticeably restless after the Frogs lost the lead.
The Frogs grounded into a double play to end the 7th inning, the fourth consecutive frame in which Morgan induced an inning-ending double play.
In the eighth, however, the Frogs were able to strike back.
Call it "Lupton Magic," call it clutch hitting, call it grinding it out — whatever you want to call it, the Frogs' half of the eighth typified the type of postseason success they've been having all year.
Austen Wade singled to right field on a liner that barely cleared the second baseman's glove with one out. Pinch hitter Connor Wanhanen, who fought injury all year, followed him with a single through the left side.
After Evan Skoug went down swinging, Luken Baker stepped up to bat with a chance to continue his streak of big hits for the Frogs.
Instead, he had what was essentially a swinging bunt to the left side that was so slowly rolling it allowed all baserunners to reach safely. Lupton Magic, indeed.
Up stepped Elliot Barzilli with the bases loaded, fresh off an eye injury in the Big 12 Championship game. All Barzilli did was knock a single through the gap in the left side of the infield that scored Wanhanen and Wade and proved to be the game-winning hit for TCU.
"I just tried to get a base hit," Barzilli said. "Lupton Magic is there for a reason."
TCU head coach Jim Schlossnagle said he had faith in Barzilli in the at bat.
"My confidence level with him is always outstanding," Schlossnagle said. "He did just what we needed."
Durbin Feltman came in relief of Ryan Burnett and pitched two stellar innings and induced a double play to end the game and send TCU to the regional championship game on Sunday.
Schlossnagle said his Frogs had to grind hard to win, something that he said should be no problem for a top level team.
"That's what everyone has to do," Schlossnagle said. "I just watched Texas Tech win a one-run game, and the University of Florida — who's supposed to be second only to the '27 Yankees — they won a one-run game."
"It's baseball, man. This type of year, anything can happen, and you just have to keep playing and grind out pitch to pitch."
The Frogs have a chance to win the regional championship in the minimum of three games tomorrow at 6:30 p.m. They'll face the winner of Gonzaga and Arizona State, who eliminated Oral Roberts earlier Saturday.