Frogs for the Cure seeks to widen impact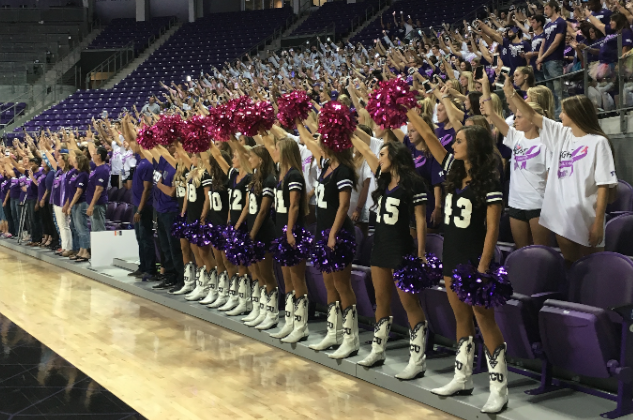 Purple is the new pink.
This year, Frogs for the Cure is broadening its horizons by supporting efforts to fight all cancers. 
Several factors prompted the change, said Ann Louden, the Chancellor's associate for strategic partnership and founder of Frogs for the Cure. She said the nonprofit wanted to align itself more with TCU's goals and recognize people facing any form of cancer.  
"First of all, TCU's medical school and the planning for that is encompassing research and advocacy for a cure that's not just related to breast cancer," Louden said. "And so as we think about what our medical students are going through and our partnership with the UNT Science Center it just made sense to broaden our mission."
She also said there was a desire to honor all of the Frogs lost through the years and those who have won the battle against all forms of cancer.
"There were so many personal stories I've heard over the last several years from people on campus that had a cancer other than breast cancer," Louden said. "They wanted to be engaged but couldn't be because they didn't have breast cancer."  
Louden said she is impressed with the mission and work of the group's new partner, Cancer Care, a non-profit organization that provides financial and emotional support to cancer patients in Tarrant, Parker, and Hood counties.
Frogs for the Cure is also collaborating with the University of North Texas Health Science Center and Texas Tech University for the first time.  
"I'm also thrilled about the collaboration with Texas Tech for the halftime show," Louden said. "We've never done that before and to have a joint halftime show, both bands are going to spell the word cure, it's going to be a sense of community we've never had in the football stadium before at halftime."
The game against Texas Tech is Oct. 29.
Past themes have centered on being brave and fighting back against cancer. This year's theme encourages people to focus on others with the disease.
"This is about focusing on the other person, and for me, that is a wonderful opportunity to contribute to the people that are struggling," Louden said. "I like the focus on other people for this year's video."
To learn more about Frogs for the Cure you can visit their website or contact Ann Louden at [email protected] You can also receive updates by following their Instagram, Twitter  and Facebook.