Weekend sports round-up: Oct. 14-16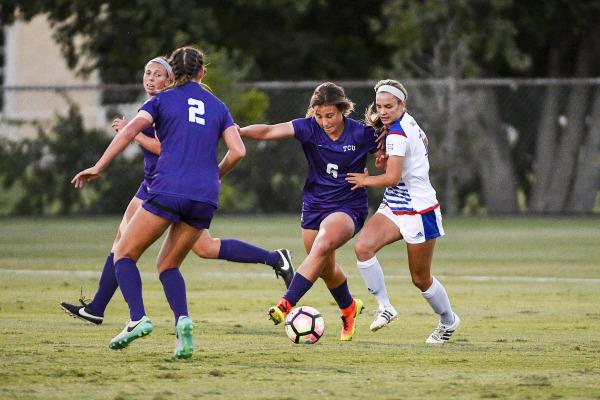 While football had a bye this weekend, plenty of Horned Frog teams were in action. Here's the roundup:
Volleyball: 
TCU volleyball fell to No. 6 Kansas on Saturday night.
Even in front of a sellout crowd, the Frogs struggled to get the momentum going. The Jayhawks held the Frogs to their lowest hitting percentage of the season and defeated them 3-0.
This game was the largest crowd so far of the 2016 season with 1,808 fans in attendance.
Director of volleyball Jill Kramer said even with the crowd, it took a while for the team to start executing their game plan.
"We just had a really tough time getting into a rhythm," Kramer said. "They stuck in there with us and they had our backs and we love that. In the first set, we weren't really on our game plan that well. We have to get on that quicker. We were also in a little bit different of a lineup tonight and you could see that it affected some of our offensive rhythms."
Natalie Gower was the leading effort for the Frogs. She led the team offensively with 7 kills and defensively at the net along with Anna Walsh, as both had three blocks.
With the loss, TCU is now 10-7 overall this season and 3-4 against conference opponents.
TCU will wrap-up the first half of Big 12 play as they travel to take on No. 4 Texas on Wednesday. First serve is set for 7 p.m.
Soccer:
TCU soccer lost two games this weekend.
TCU took on Baylor on Friday and with both teams trading opportunities to score, it was Baylor who came out victorious.
Baylor sped up the tempo late in the second half and in the 61st minute, Raegan Padgett ran down the sideline and took the shot, giving the Bears a 1-0 lead. Ten minutes later, they tacked on another goal, making it 2-0.
TCU didn't go quietly, however. Faith Carter capitalized with 30 seconds left to play and put one on the scoreboard for the Frogs.
On Sunday, TCU found themselves unable to fully capitalize again.
When the Frogs took on the Oklahoma State Cowgirls, they found themselves trailing by two at the half.
TCU controlled much of the gameplay in the second half, outshooting Oklahoma State 9-2, but couldn't find a goal.
With less than two minutes left in the match, OSU was awarded a penalty kick and Courtney Dike converted the kick for the final score.
This was the third time this season TCU has been shutout.
TCU will wrap up their regular season with a three-game homestand. The homestand opens Friday night as the Frogs host No. 1 West Virginia. Game time is set for 7 p.m. at Garvey-Rosenthal.
Editors' note: game stats and quotes can be attributed to gofrogs.com