Men's basketball routs Alabama State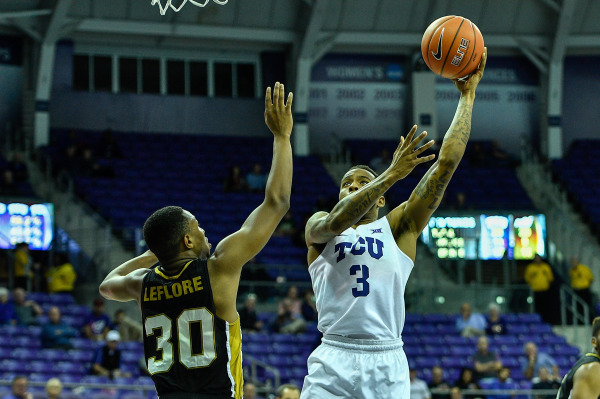 The Horned Frogs men's basketball team picked up their second win of the season Monday night as they easily defeated the Alabama State Hornets.
The Hornets looked outmatched from the start. The TCU defense dominated as they held the Hornets to just 15 points in the first half. That was the eighth fewest points in a first half that the Frogs have held an opponent to in program history.
The TCU offense fired on all cylinders in Monday's game. Five players had double-digit points including freshman Jaylen Fisher, co-Big 12 newcomer of the week for his performance in his debut. Freshman point guard Desmond Bane led the Frogs scoring 19 points in 26 minutes. Sophomore JD Miller had a big game as well scoring 17 points in 19 minutes.
Bane said after the game that he owes his teammates for giving him so many open shots.
"In practice, we worked on that a lot," Bane said. "Sharing the ball and getting your teammates open. I just happened to be the one open tonight and my teammates were counting on me to knock down the shots."
After the game head coach Jamie Dixon said he was happy with his team's performance and the way the defense played.
"The first half was really good for us," Dixon said. "The defense was something we worked on. I've been trying to really emphasize guarding the ball screens and what we want to do on that and so really a good day for us in that regard."
Dixon also said he wants student help to give TCU a home court advantage by building up the student section.
"We got to have a great home court. We got to get those students to be the emotion," Dixon said. "They got to be the catalyst, so that's what we're looking for."
The Frogs will have a few days off before returning to action again on Friday night against Jacksonville State at the Ed and Rae Schollmaier Arena. Tip-off is set for 6 p.m.