Men's basketball continues win streak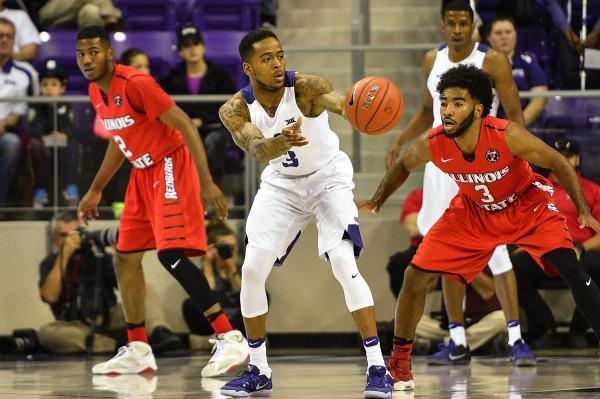 The TCU men's basketball team earned a hard-fought win over Illinois State on Monday night, 80-71.
The Frogs battled the Redbirds in a closely contested game. It was a sluggish start to the game for TCU as they had a hard time getting the offense going. That all changed in the second half as the Frogs came out with much better offensive play.
The back and forth game had 11 lead changes and saw the Frogs take the momentum late to squeeze out the win. TCU only led the game for six minutes and 18 seconds. However, the Frogs managed to keep the score close before pulling away in the final minutes. The Frogs are now 4-0, which is the best start under a new head coach in program history.
Junior Vlad Brodziansky led the Frogs with a career-high 24 points, scoring 11 straight points at one point in the game. Freshman point guard Jaylen Fisher scored 15 points, hitting a key 3-pointer in the second half that swung the momentum in the Frogs favor.
Sophomore Alex Robinson said this game was a great win team win to build on.
"I think this team is picked to be second in the conference," Robinson said. "So for us to come together as a unit like that and have energy from the fans and everybody in the stands, it was great."
Head coach Jamie Dixon said he was proud of Brodziansky's play and that his team needs to be ready for their road trip.
"Vlad stood out," Dixon said. "He's just getting better and better, you know he missed a lot of practice. Now he's back and he's giving us good scoring."
The Frogs will go on their first road trip of the season to take on UNLV in Las Vegas, Nevada on Nov. 25 at 9:30 p.m.