Evan Skoug leads TCU in All-Big 12 Honors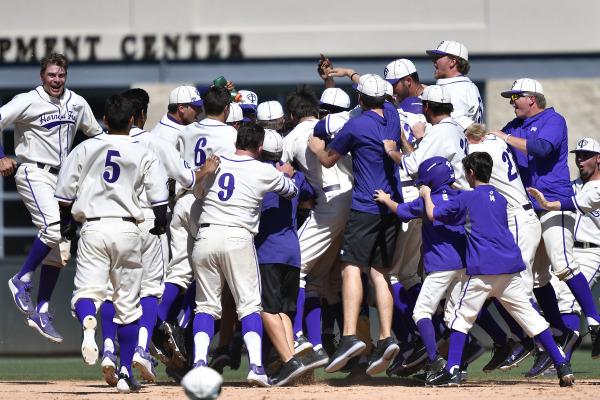 TCU catcher Evan Skoug was named the Big 12 Co-Player of the Year Tuesday and for the second straight season, 10 Horned Frogs were selected to the all-conference teams.
Joining Skoug as first-team all-Big 12 performers are Cam Warner, Austen Wade and Jared Janczak. Second-team all-Big 12 accolades belong to Luken Baker, Nolan Brown, Sean Wymer and Nick Lodolo. Honorable mention honorees are Brian Howard and Durbin Feltman. Lodolo also earned a spot on the All-Freshman team.
Skoug is the second Horned Frog to earn the Big 12 Player of the Year award, joining Cody Jones who earned the award in 2015. He is the fifth Horned Frog in program history to be honored joining Lance Brown (1963), Jimmy Duffy (1966), Royce Huffman (1999) and Jones. Brown and Duffy won the award while TCU was a member of the Southwest Conference, and Huffman won the award while TCU was a member of the Western Athletic Conference.
The catcher also earned first-team all-conference accolades. Skoug leads the Big 12 with 16 home runs and ranks third in the league with 54 RBIs. His .370 batting average in conference games is the fourth-best mark in the Big 12, while his 10 home runs and 28 RBIs led all hitters.
Wade leads the Horned Frogs and ranks second in the Big 12 with a .353 batting average and a .457 on-base percentage for overall play. For in conference games he is hitting .389 with a .495 on-base percentage in 19 games with six doubles, one home run and nine RBIs.
Baker is second on the team with a .317 average, eight home runs and 41 RBIs. His 40 walks on the year rank second-most in the Big 12, while his .454 on-base percentage ranks fourth in the league.
Warner, one of four Horned Frogs to have started and played in all 53 games, ranks third on the team with a .295 average. In Big 12 play, Warner hit .323 with three home runs and 14 RBIs.
Janczak holds the second-best ERA in the league at 2.14 in 10 starts this season. He is 7-0 this year and ranks 10th in the Big 12 with 67 strikeouts. Janczak leads the Big 12 with a .154 opponent batting average as well. In four league starts, he posted a 2.36 ERA.
Brown leads the Big 12 with 25 stolen bases this season, 13 of which have come in conference play. Hitting .286 this season, Brown ranks second on the team with 12 doubles. He has totaled three home runs and driven in 28 runs.
Wymer leads the team with 24 appearances out of the bullpen and a 1.65 ERA. He has racked up 51 strikeouts in 43 2/3 innings of work. In 12 conference appearances, Wymer boasts a 1.96 ERA.
Lodolo is one of six freshmen to earn a spot on an all-conference team as well as the all-freshman team. The left-hander has made 13 starts as part of 14 appearances on the season. He is 5-1 with a 4.32 ERA on the year. In league play, Lodolo went 2-0 in eight starts with a 3.14 ERA.
Howard leads the team with 15 starts this season. His eight victories are tied for the most in the league, while his 75 strikeouts are the third-most in the Big 12. In eight conference starts, Howard was 4-1 with a 3.86 ERA and 42 strikeouts.
Feltman ranks second on the team with 23 appearances out of the bullpen. He is 2-2 on the year and is tied for the Big 12 lead with 14 saves. In 11 Big 12 outings, Feltman notched seven saves.
TCU will be the two seed in the upcoming Phillips 66 Big 12 Championships at Chickasaw Bricktown Ballpark in Oklahoma City. The Horned Frog's first game will be against the seventh-seeded Kansas Jayhawks Wednesday at 4 p.m.