The Frogs lose first match at the Fight in the Fort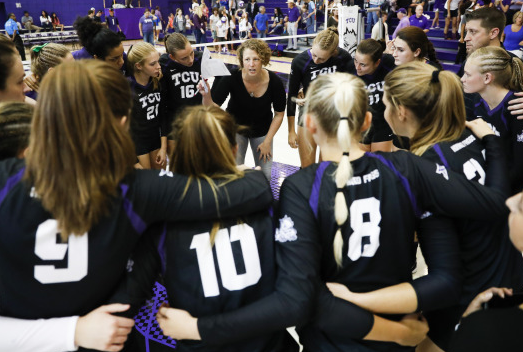 TCU volleyball struggled offensively in their first match at the Fight in Fort and lost to Duke in straight sets (27-25, 25-20, 25-18).
"This match was a little out of character for our team," head coach Jill Kramer said. "We are typically a pretty strong serving team, and I think Duke passed really well tonight."
The Frogs led the Big 12 with 1.62 aces per set after totaling 22 last weekend in Florida before the match tonight, but tallied six serving errors and only one service ace against the Blue Devils.
TCU's offense picked up at the end of set one when they began running the middles more in transition. They came back from a six point deficit with a kill by middle blocker Sarah Swanson to tie it 22-22, but the run was not enough and TCU dropped the set 25-27 after a crucial missed serve.
"Our middles did a really great job, Anna went off on them hitting .643 on 14 swings," Kramer said."But we struggled to score at the pins and struggled to pass the ball."
Kramer added that it made it tough to run their out-of-system offense.
The Frogs never took a lead in the second or third sets. The Blue Devils put up a big block and continued to challenge the team's pin hitters. This made TCU back off of their normal power and rely on off-speed shots.
"It is all fixable, but we need urgency," Kramer said. "We can't get a point or match back. We need to learn from tonight and be better tomorrow."
The Frogs are back in The Rickel tomorrow to face Lehigh at 1:30 p.m. and Utah Valley at 7 p.m.