The Horned Frogs jumped out to an early lead Saturday in Fort Worth against the Texas Longhorns, buoyed by TCU forwards Kouat Noi and Vladimir Brodziansky, and never relinquished its edge, winning 87-71.
The redshirt first-year student was given his second career start and proceeded to hit his first three shots, all from behind the arc. Noi led all scorers at the half with 15 points, and he finished the contest with 18 points.
"Coach always preaches staying ready, so whenever I get the chance I'm always going to be ready to shoot or drive and look for the open man," Noi said. "I give the credit to my teammates for finding me throughout the game."
Noi will likely be a fixture in the starting lineup going forward.
"He's earned it, and we've always felt JD [Miller] was the better defender against the bigger guys, but we felt it was time to try it again," TCU head coach Jamie Dixon said. "He's going to have to play more perimeter with the rotation playing one of our wing spots. He was going to play more minutes no matter what, so it's better to get him in at the start than sit him the first four or five minutes."
Dixon's squad checked nearly every box in its wire-to-wire victory by out-rebounding the Longhorns 33-22, committing just six turnovers while Texas had 11 giveaways, and out-scoring Texas in the paint, 38-30.
"The numbers speak for themselves," Dixon said. "

Defensively, still not quite there, but the main thing is that we only gave up five second-shots, and we did it with the short bench."



It was quite a contrast to the first matchup between these two teams when the Longhorns narrowly defeated TCU Jan. 10 in double-overtime,
99-98
. The Horned Frogs led by as many as 17 points, 57-40, with three and a half minutes into the second half.
"They had trouble stopping us and we seemed to answer with baskets going inside and it was inside out," Dixon said. "I don't think we settled. We attacked with penetration and interior touches."
Longhorn center and probable NBA lottery pick in the upcoming draft Mohamed Bamba was the lone bright spot for Texas with 23 points to go along with five rebounds and a block. TCU was able to neutralize Bamba's presence defensively, as the first-year student finished with five fewer blocks than he did in the first matchup.
"I thought our bigs went at him more," Dixon said. "I think we passed better on penetration, and maybe we're better on offense now than we were then."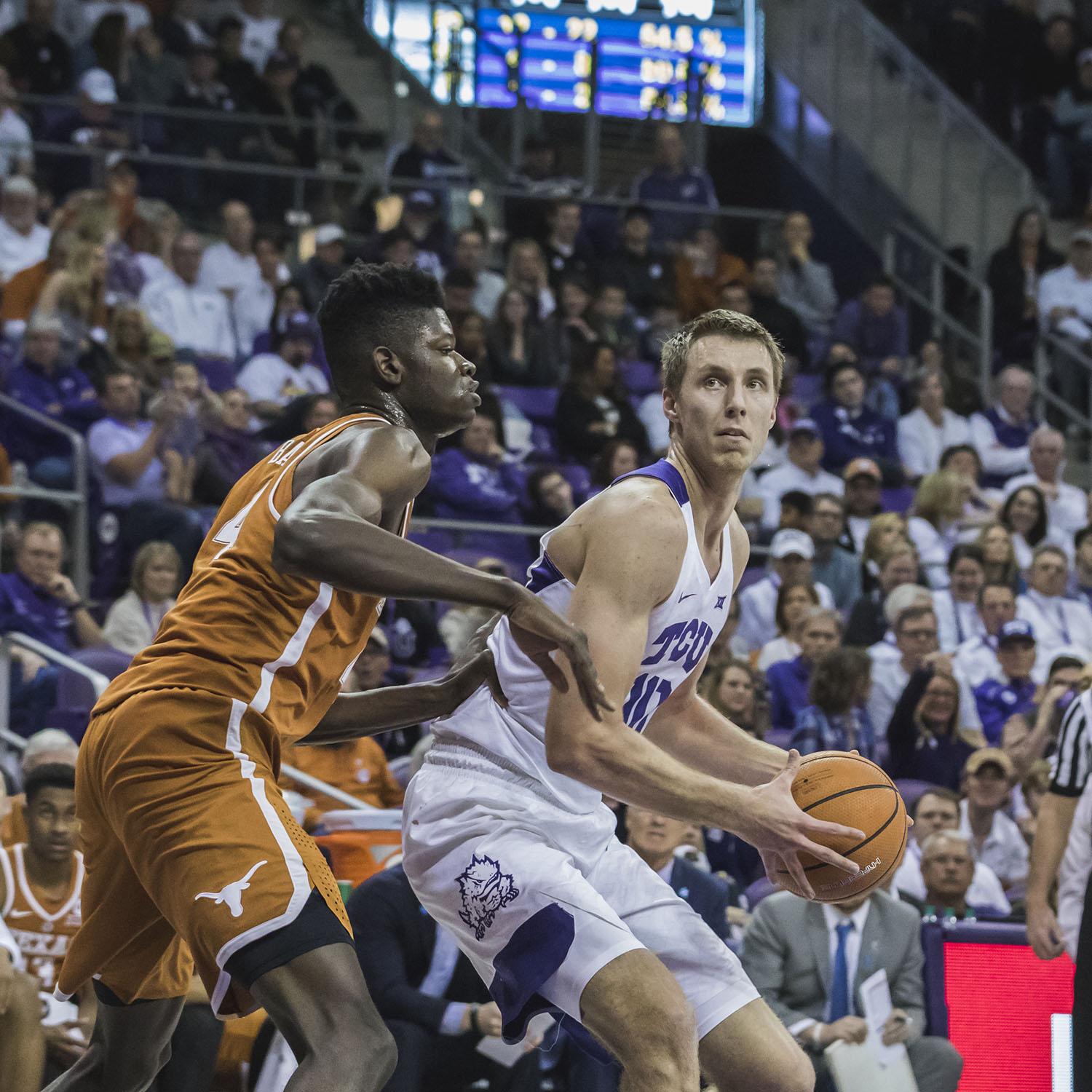 The Horned Frogs overcame a lack of depth Saturday against the Longhorns as only seven scholarship players suited for TCU with guard Shawn Olden's concussion in addition to point guard Jaylen Finisher being out for the season. Dixon was unsure of Olden's availability for TCU's next game in two days. 
"The concussion thing is always interesting because the kid says he wants to play and the doctor says he can't play," Dixon said. "We've had a lot of those this year with Hamdy wanting to play against Vanderbilt, the doctor said no. Same thing here. That's pretty normal with concussion protocol, and he'll be complaining all day saying he's ready to play Monday. The doctors will have a response."
 Up Next
TCU (17-8, 5-7) has a quick turnaround with its next matchup coming against the No. 19 West Virginia in Morgantown. They'll be an angry Mountaineers squad looking to avenge its
Jan. 22 defeat
against TCU in Fort Worth, as well as a team looking to avoid a losing streak at home following its 88-85 loss against Oklahoma State Saturday.
"I'm proud of our guys," Dixon said. "We'll get ready for West Virginia."