The Council on International Educational Exchange (CIEE) Open Campus is allowing students the opportunity to make their own study abroad schedule.
With this new option, TCU students can pick up to a three-part semester abroad from 12 locations: Berlin, Germany; Buenos Aires, Argentina; Cape Town, South Africa; Copenhagen, Denmark; London, England; Madrid, Spain; Monteverde, Costa Rica; Paris, France; Rio de Janeiro, Brazil; Rome, Italy; Santiago, Chile; and Yucatán, Mexico.
The new "design your own semester abroad" option is available to students in addition to the numerous existing study abroad opportunities.
Students can choose one, two or three locations for six, 12 or 18-week experiences, according to CIEE's website.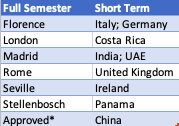 There are summer programs that have recently closed, but the programs for summer 2020 will be revealed in the fall.
The full-length semester abroad programs are offered in the spring and fall semesters, while the summer programs are available from May through August. The short-term programs generally last one to two weeks during the fall or spring semesters.
These study abroad opportunities also help students stay on their desired graduation path.
"Studying abroad for many students fits into degree plans and core requirements really well," said Justine Grace, an academic advisor in the TCU Honors College.
Students have to complete at least two semesters in residence at TCU before studying abroad, said Tami Zeiner, office services coordinator at the Center for International Studies.

When studying abroad, students enroll in similar class loads like they would at TCU.
"A student will earn 12-16 credit hours in a semester program abroad," Zeiner said. "They must remain enrolled in classes full-time (minimum 12 hours) to continue participating in the program."
The new CIEE "design your own semester abroad" program intends to continue to encourage TCU students to study abroad.
Even for students with tight schedules each semester, Grace said summer programs offer a great alternative option.