Mindful practices have been slowly growing across America over the past 10 years and a group of religion professors and students are bringing them to TCU's campus.
Researchers at Boston University and Harvard Medical School found that the technique helps alleviate anxiety and allows individuals to better cope with stressful situations.
"There was really no connection to mindful practices on campus when I first got to TCU 10 years ago," said associate professor of religion Mark Dennis. "It really started in 2012. Andy Fort and I decided to start a group on campus. We began by having a meditation workshop on campus and 25-30 staff and faculty showed up."
The group Fort and Dennis started seven years ago now hosts around five workshops a year for faculty and staff.
Last semester, they helped a group of students create a student meditation group on campus.
Fort said there's lots of data that shows meditation can help with stress and other problems.
Max Sklansky, senior business information studies major, Christine Pho, senior physics major and Lexi Endicott, senior dietetics major, were the three founding members of the contemplative studies student group.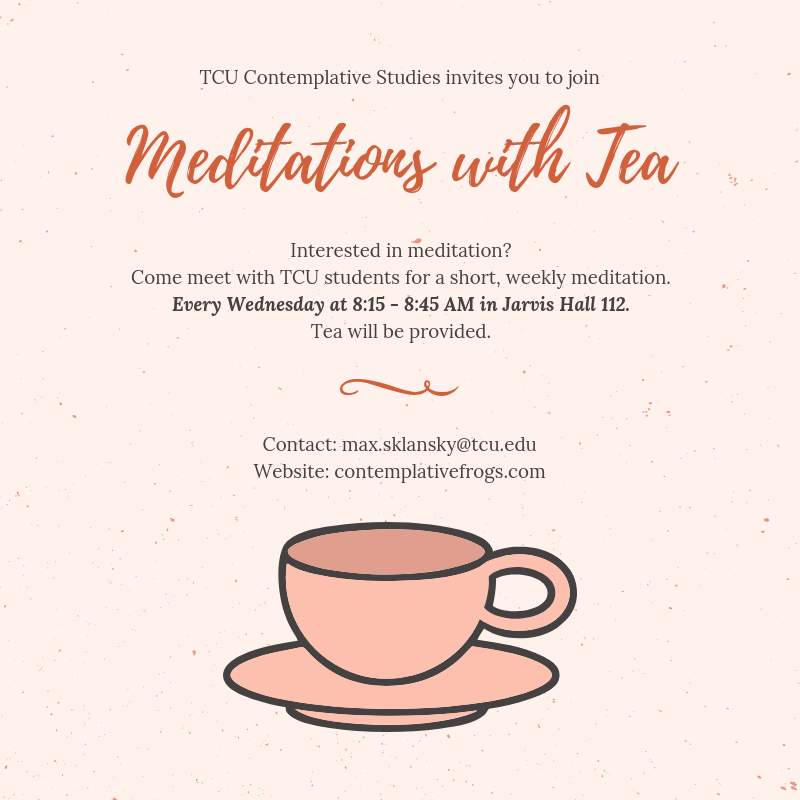 "The group started with just us three," Sklansky said. "Then it grew to about five people and then ten."
The contemplative studies student group meets every Wednesday from 8:15 to 8:45 a.m. in Jarvis Hall Room 112.
"Yes, we're all busy, trust me, I get it, but those 30 minutes are just 0.3 percent of your entire week, just show up" said Endicott. "Take this opportunity to connect with your peers, your mind and your body, and I can almost guarantee that you will discover a part of yourself that's just begging to be explored."
Some students who attend the weekly meditation sessions said they have noticed the positive effects of meditation in their daily lives.
"I start my day by just sitting for 20 minutes without getting up and checking my phone immediately," said senior business information systems major Nathan Walker. "This gives me time to wake up and collect myself, and it just really helps my day a lot."
Tallon Endicott, a junior psychology major, said he has seen his stress and anxiety reduce since last semester when he began meditating with the student group.
"I also noticed that I have been having more positive interactions with friends, family, loved ones and even strangers," Endicott said.
Dennis also teaches a class Tuesday evening on the varieties of meditative experiences in the recreation center from 4-5 p.m. in Room 048.
"I introduce them to a variety of meditation practices to try to let them see what they like best," Dennis said. "This one may not work for you but maybe this one will."
Dennis said people with questions or those interested in getting involved with the meditation groups on campus can join his class or email him at [email protected]
The student meditation group is looking to become a recognized group on campus next semester, so that it can be eligible to receive money from the Student Government Association.
Dennis said that he hopes that there will be a minor in contemplative studies at TCU in the next few years.