Volleyball defeats Texas Tech for another sweep of a conference foe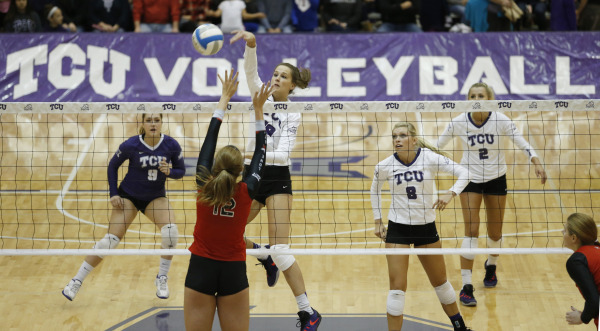 The Horned Frogs earned a season sweep of Texas Tech Wednesday with a straight set win (25-13, 26-24,25-18) to improve their record to 18-8 overall and 8-6 in conference.
TCU dominated the first set by playing mistake-free volleyball. The team did not have a single hitting error. Playing flawless keyed the Frogs to a 12-point victory in the first set, 25-13.
"We got off to a really slow start when we played Tech at Tech, going down 17-6, but we did come back to win that set," Director of Volleyball Jill Kramer said. "We really wanted to get off to a good start, I think the girls made a point of that and we played really well."
The second set was the opposite of the first. While TCU did hold a lead for a portion of the set, Tech had the first set point of the set when they took a 24-23 lead over the Frogs.
However, the Frogs took over in the clutch winning the next three points to take the second set 26-24. TCU's calm, confident demeanor allowed them to recover and claim the second set.
"We were big in the clutch, they stepped up and had some confidence," Kramer said.
In the third set, Kramer made a lineup change, playing senior outside hitter Blaire Pickens.
"She stepped up tonight and played a good role on the team," Kramer said.
Other than the lineup change, the team didn't make many changes to its game plan.
"We adjusted to the tip and the setter dump throughout the set, but other than that we didn't make major adjustments, we just controlled the ball well," Kramer said.
Junior outside hitter Ashley Smith once again led the team in hits, which has become the norm lately with the Frogs.
"She played to her strengths and took big rips at the ball, I think she's one of the best outside hitters in the league," Kramer said.
Another big contribution to the Frog's victory came from their setters, sophomore Kaylee Smith and senior Alexia Heist.
"I think Lex and Kaylee distributed the ball really well, they're getting a good rhythm with their hitters and feeling like the can set any hitter at any time," Kramer said.
Heist came off the bench to lead the Frogs in kills with 25, and Smith added 15 assists as well.
In terms of attendance, TCU continued it's trend of selling out every home game this year, with 2,275 people watching Wednesday's contest between the Frogs and the Red Raiders.
The Frogs take on the Oklahoma Sooners at noon in Norman on Saturday.