Black Friday night lights: Previewing Baylor vs. TCU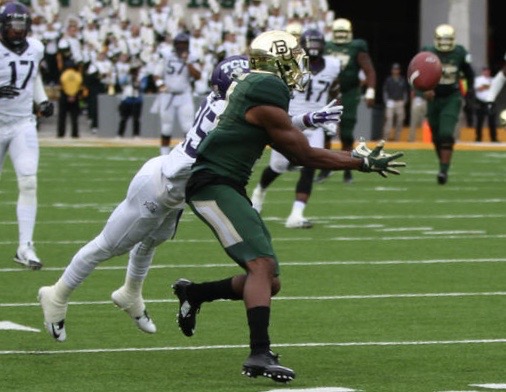 The hype began 12 months ago. Two teams, one rivalry, and one epic showdown on Black Friday in Fort Worth.
With Thanksgiving week upon us, only a few days remain until the TCU Horned Frogs host the Baylor Bears at Amon G. Carter Stadium to conclude the 2015 regular season for the Frogs.
Once billed as the probable Big 12 title game that would feature a shootout between two potentially undefeateds and two of the most explosive offenses in the nation, the narrative is a bit different than what we all expected.
Neither team will enter the game undefeated, and the Frogs have already been eliminated from Big 12 title contention after suffering their second loss of the season to Oklahoma on Saturday.
The Bears are without starting quarterback Seth Russel, who suffered a season-ending neck injury against West Virginia last month. And the Frogs, who have suffered more injuries to starters than any other team in the nation this season, will potentially be without both ends of one of the best quarterback-wide receiver duos in the nation once again, as starting quarterback Trevone Boykin remains questionable and wide receiver Josh Doctson is out with a wrist injury.
But the rivalry lives on.
Tensions remain at an all-time high between the Frogs and Bears after the events in Waco last October, when the Frogs blew a 21-point lead, ultimately costing them an undefeated season and a likely inaugural College Football Playoff berth.
That was just the beginning of a long and heated rivalry between the two schools complete with playoff committee controversy, incidents of graffiti on the two campuses, smack-talk between fans on social media and two numbers that will be forever etched in the minds of TCU and Baylor fans; 61-58.
Now the Frogs finally have the long-awaited chance to get their vengeance.
For the seniors like tailback Aaron Green, wide receiver Kolby Listenbee and Boykin (if he does indeed play), it will be a chance to go out with a bang in their final game at Amon G. Carter Stadium. For everyone though, it will be a chance to salvage a season that fell short of National Championship aspirations.
A victory for the Frogs, while not enough to help them emerge as conference champions with the elimination of the co-champion rule, will put them at 10-2 with a decent chance to finish in the top 15 and earn a berth to the Peach Bowl or Fiesta Bowl.
A victory for the Frogs will give them a second consecutive undefeated season on their home field.
And finally, a victory for the Frogs will shatter the Big 12 title and playoff hopes of the Bears, a top 10 team in the country.
It won't be an easy task for the ever-depleted Frogs. Even with Russell out, back-up freshman quarterback Jarrett Stidham has had two impressive outings in three starts, despite suffering an apparent back injury against Oklahoma on Nov. 14. That was not enough to keep him from starting against Oklahoma State on Saturday, leading the Bears to their first win in Stillwater in nearly 80 years.
The Frogs will also have to contain two of the best wide receivers in the conference in K.D. Cannon and Corey Coleman. Cannon caught for 220 yards and two touchdowns in the win against Oklahoma State on Saturday, and Coleman has already shattered Baylor's all-time record for touchdown receptions in a single season with 20 touchdowns on the year entering the game.
But anything can happen in a rivalry game.
Emotions are at an all time high. Fans have been waiting all season for the game, and many students are spending their Thanksgivings in Texas to attend the match-up. The Frogs have a chip on their shoulders from last year, and there is no better feeling than knocking off your rival to conclude the season.
If Boykin is able to make a return, the Frogs will have gained considerable depth, and with the crowd on their side, it may be just enough to get the job done.
Will it be easy? No. But the Frogs showed their heart and their will to fight on Saturday night, coming back from from a 17-point deficit in the fourth quarter against the No. 7 Sooners to make it a 30-29 ballgame. All that kept them from winning was a deflected two-point conversion attempt, even while on the road in a stadium where the home team had only lost four times in 10 seasons.
If a depleted squad can keep up on the road with a team that defeated Baylor, there's no reason why the Frogs can't emerge victorious at home on Friday.
So buckle up, everyone. It's time for a wild ride of Friday Night Lights: Big 12 style.
Prediction: TCU 42, Baylor 39