TCU Volleyball earns berth to NCAA Tournament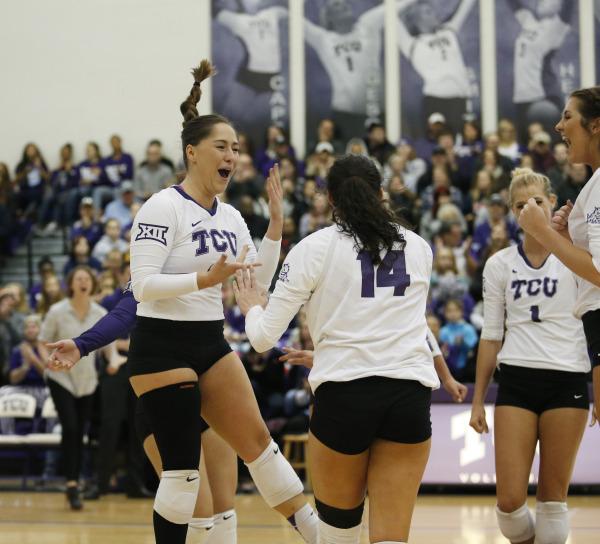 Published November 30, 2015
The Horned Frog volleyball team was named to the field of 64 Sunday for this year's NCAA Tournament, the second berth for the Frogs in program history.
TCU will play in the College Station regional and face Hawaii at 5:30 p.m. on Friday, Dec. 4. If the Frogs win, their season will continue on Saturday, Dec. 5 against the winner of the Texas A&M University and Texas A&M Corpus Christi matchup.
This season has been one of the best in program history for the Frogs. The team enjoyed one of their best wins in program history this year when they swept then No. 2 and current No. 3 Texas in Fort Worth. The win marked the first and only time the Longhorns have been swept this season, and it stands as Texas' only conference loss in 2015.
TCU has benefitted from playing against top competition all season long. Seven of the Big 12's nine volleyball teams are ranked in the top 60 nationally, including six teams in the top 50. Three teams are in the top 25, and two in the top 10. Six of the league's nine teams are ranked in the top 80 nationally in hitting percentage, with three Big 12 teams ranked in the top 50.
The Big 12's 30 non-conference losses are the second fewest in the nation, and the Big 12 is the only power five conference where all of the teams play each other twice in a double-round robin schedule.
One of the biggest keys to TCU's success this year has been the strength of the Frogs' blocking game. The Frogs have out-blocked their opponents 23 times this season and have only been out-blocked in four of their 28 matches this year. TCU has had 15 double-digit block matches, is currently ranked No. 12 nationally in blocks, and is No. 1 in the Big 12 with 2.93 blocks per set.
The Frogs finished 9-2 at home this season and the team also finished with a perfect 5-0 record in matches played on a neutral site. A huge factor in the home court success this season has been the attendance, as TCU has sold out all 11 of their home matches.