With the strength of a warrior: TCU cheerleader returns to American Ninja Warrior
This story is from this semester's second edition of IMAGE Magazine, published this week and available at news stands around campus.
It's been a year since Jeffrey Kearney fell off of the Tilting Slider, ending his dream of becoming the first American Ninja Warrior. Now, he will finish the obstacle course and hopefully take home the prestigious title and $1 million.
As a child, the junior film, television and digital media major and his brother, Keith, dreamed of competing on the NBC show, which was initially televised on G4, a gaming channel, from 2009 to 2013.
According to the show's casting website, competitors must be at least 21 years old and in able physical shape.
"Whenever we were both of age we would compete together," Jeffrey Kearney said. "Last year we both got on and both went to Houston."
Jeffrey Kearney said his brother is part of the reason he did not pass the 2014 city qualifiers in Houston, Texas.
"It was instantly cold, I closed my eyes and all of the sudden I was in the water," Jeffrey Kearney said. "I didn't know it happened. It was so quick."
Physically, Jeffrey Kearney was ready to complete the timed obstacle courses, which included crossing pools of water by hanging from 2-inch ledges and scaling horizontal, upside-down rock walls that challenged contestants' strength and agility.
However, right before Jeffrey Kearney's turn, Keith Kearney dislocated his shoulder on the Tilting Slider, a log that rotates, shifting Jeffrey Kearney's focus from the course to the paramedics carrying his brother away.
"I ended up falling on the same thing," Jeffrey Kearney said, a teasing tone rising in his voice. "I should've been like, 'I'm doing this for my brother,' but for whatever reason my mind took it out of me and I didn't even feel like I was there."
Kearney is working on his audition tape for the show's eighth season. He said in order to get past the two city qualifying stages and go on to finals, it's important to train hard and prepare for the unpredictable.
"What makes it interesting is that all the obstacles change, so I don't know beforehand what certain ones are going to be a part of the course," Jeffrey Kearney said. "I have been practicing all year round for what may or may not be there."
Kearney dedicates a significant amount of time to training for American Ninja Warrior. He travels mostly on the weekends for 47 minutes to train at Obstacle Warriors in Dallas.
Alexis Schrepple, a junior graphic design major and warrior-in-training, goes to the same gym and said she is amazed at his talent.
"Superhuman, that's a good word," Schrepple said. "It's almost surreal to see a human being that's almost a couple inches taller than you do some of the things that American Ninja Warriors do."
This year, Jeffrey Kearney has both mentally and physically prepared himself by putting in many hours of training and taking on a new sport: cheerleading. Mickey Farris, TCU's head cheerleading coach, said the training Kearney does for the team on campus is interchangeable with the training he does at the warrior gym.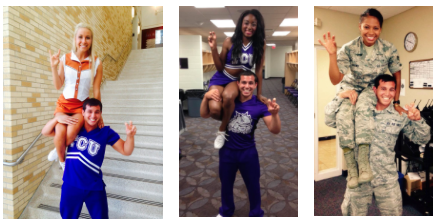 "From where we lift the girls to tumbling to jumping, like everything that they do, we use many different body parts," Farris said. "And for him that's actually a double. Plus a lot of what he uses cheer-wise he can then turn that and say, 'Hey this is going to better me on the course.'"
Kearney practices broad techniques that cover obstacles like the Swinging Spikes, where contestants have to continuously swing from nunchaku-like spikes, and attain specific skills like finger grip strength.
Schrepple said that while Jeffrey Kearney is going through all the specifics for the course, Kearney stays in the zone.
"It's funny cause beforehand he'll be very outgoing," Schrepple said. "And right when it's like, 'All right, let's do this,' suddenly his face changes and it's like determination, he's got this, he's going to do this."
For Jeffrey Kearney three factors have played heavily into his journey to slap down the buzzer sitting on top of a 20-foot warped wall.
First is the understanding that the show is more than the money. It's an opportunity to shed light on underfunded causes. Kearney served in the Air Force for five years in the medical operations squadron. He returned from service uninjured, but he said many did not.
"There are plenty of people that would give anything to be able to wear both shoes, put both hands on a steering wheel or simply see what life has to offer," Kearney said. "With the money I could win from the show, I want to put some money toward the Wounded Warrior fund."
Second is the burning desire to accomplish a childhood goal.
"Hitting the buzzer will be a checkmark on my bucket list," Kearney said. "It's already been cool being a part of it and stepping on the stage in the beginning, but now I want to be on the top of the stage at the very end."
Third is the awareness that the show provides him a platform to encourage fun, healthy living. Kearney is attracted to adventure, taking part in skydiving, scuba diving and snowboarding.
"It's definitely a lifestyle change," Kearney said. "It's a reason to stay in shape and live a healthy lifestyle. I've learned through the military that life shouldn't be taken for granted, so you should live it to the fullest."
And part of living life to the fullest includes trying again after failing once.
Farris said Dwayne Wade, shooting guard for the Miami Heat, gives the best advice for Kearney's second attempt at the course.
"He said that if you fall seven times, you get up eight," Farris said. "And that's the same way with Jeff on that course, that's kind of a do or die once they get in. But a lot of times I tell him, 'Do it as though it was your last time to do it, know that when you come out of it, you put everything you could into it.'"
Last year, Tyler Fisher, the assistant director of TCU's leadership center, competed on the show but did not continue to the finals in Las Vegas after falling in Houston's second round during the qualifying stage.
Fisher said he learned that getting up and trying again is a huge part of the competition.
"If you fail, you need to look back and review: 'Okay, what do I need to do for next time?' because in most instances in life there is a next time,'" Fisher said.
Next time came early for Jeffrey Kearney – on Sept. 27 he was able to participate in Titan of Texas Ninja Warrior Challenge at the State Fair of Texas. The top finishing male and female that completed the course would receive $10,000 from Nissan, but Kearney used the opportunity to gauge his progress.
"Ninjas from California to Florida came to the Texas State Fair for it," Kearney said. "I sadly did not come close to [winning] but it did give me a preview on where I currently stand."
Kearney said both he and his brother will return to the course, but he's taken steps to make sure he's fulfilling his dream.
"I'm definitely going to go before my brother," Jeffrey Kearney said after letting out one of his contagious laughs. "I just have to play the course as I should have."
He has a village of people behind him as he begins his journey to win the competition – his hometown of Azle, his cheer family, the friends he made in the Air Force and his family.
Farris said the TCU community is also a support system.
"He'll definitely have TCU's backing 100 percent," Farris said.
Now Kearney just needs the producers' support once the casting process begins.
"It would mean the world to me if I received the magic phone call from NBC producers with an invite back to the next season," Kearney said. "I believe in second chances, so I hope they do too."