TCU defeats Colgate 76-49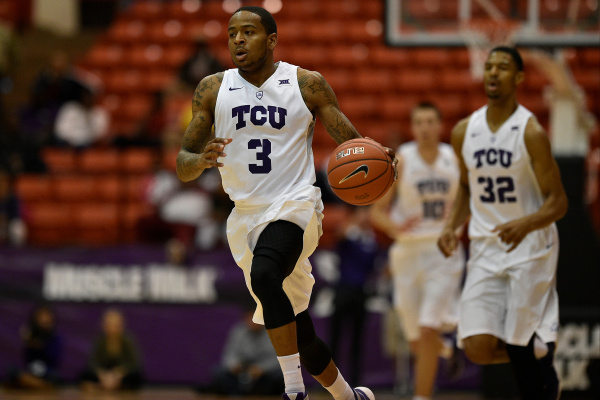 TCU men's basketball defeated Colgate 76-49 Friday, improving to 4-3 on the season.
Coming off their loss against SMU on Wednesday night, head coach Trent Johnson said he was concerned about the team's energy going into tonight's game. But, after the game he said they got off to a good start.
Guard Brandon Parrish said the team gave full effort because they wanted to show they're a good team that will compete this year.
In the first half alone, the Frogs had 24 total rebounds, two three-pointers, and were 14-33 in FGA.
The Frogs held Colgate to only 19 points in the first half, leading them 37-19 after 20 minutes of play.
Johnson added that he saw growth in his players tonight.
They were sharing the ball and doing things they haven't done in a while, looking for the open man, and forgetting about who was guarding, he said.
"There was some growth there." Johnson said.
Rebounds were another key part of the game, with the Frogs tallying 40 on the night. Karviar Shepherd had 11 and Malique Trent had six.
It wasn't the ability to rebound better, Johnson said, but their ability to react better. He said that Shepherd's eyes were "reacting to the ball" and it helped them not be so sluggish.
"Being the first guy to react to it is so important." Johnson said.
As the Frogs are have only played seven games, Johnson says it's still a "work in progress" and their main goals are to get healthy.
TCU now travels to Seattle, Washington to take on Washington on Tuesday.