Record-setting duo heads to Atlanta as national award finalists
Published December 9, 2015
The powerful pair of Trevone Boykin and Josh Doctson will be heading to Atlanta for the Home Depot College Football Awards Show Thursday.
Boykin is up for the Davey O'Brien National Quarterback Award for the best at his position in the country, and Doctson is a finalist for the Biletnikoff Award for the best receiver.
TCU's quarterback, who was also a finalist for the Davey O'Brien Award last year, will be up against Oklahoma's Baker Mayfield and Clemson's Deshaun Watson. The namesake of the trophy was a TCU alum who played for the Frogs in the 1930s and won the Heisman Trophy.
"It feels great to be invited back," Boykin said Tuesday. "It's really an honor, and to be sitting in a room with a lot of guys that have done a lot of great things around the country is really just a blessing in itself."
While he was in the Heisman conversation early in the season, Boykin was not invited to New York as a finalist for the award. He sprained his ankle against Kansas and said Tuesday he is not "100 percent" healthy but said he feels like he will be good to go for the bowl game. Regarding missing the invitation to New York, Boykin said he wasn't disappointed.
"I was really blessed to even be mentioned in the conversation, to be honest," he said about the Heisman Trophy. "That's all credit to my teammates and my coaches, because without them, I really wouldn't be in this position anyways, so it really wasn't a disappointment."
As for Doctson, this is his first time being invited to the national awards ceremony in Atlanta.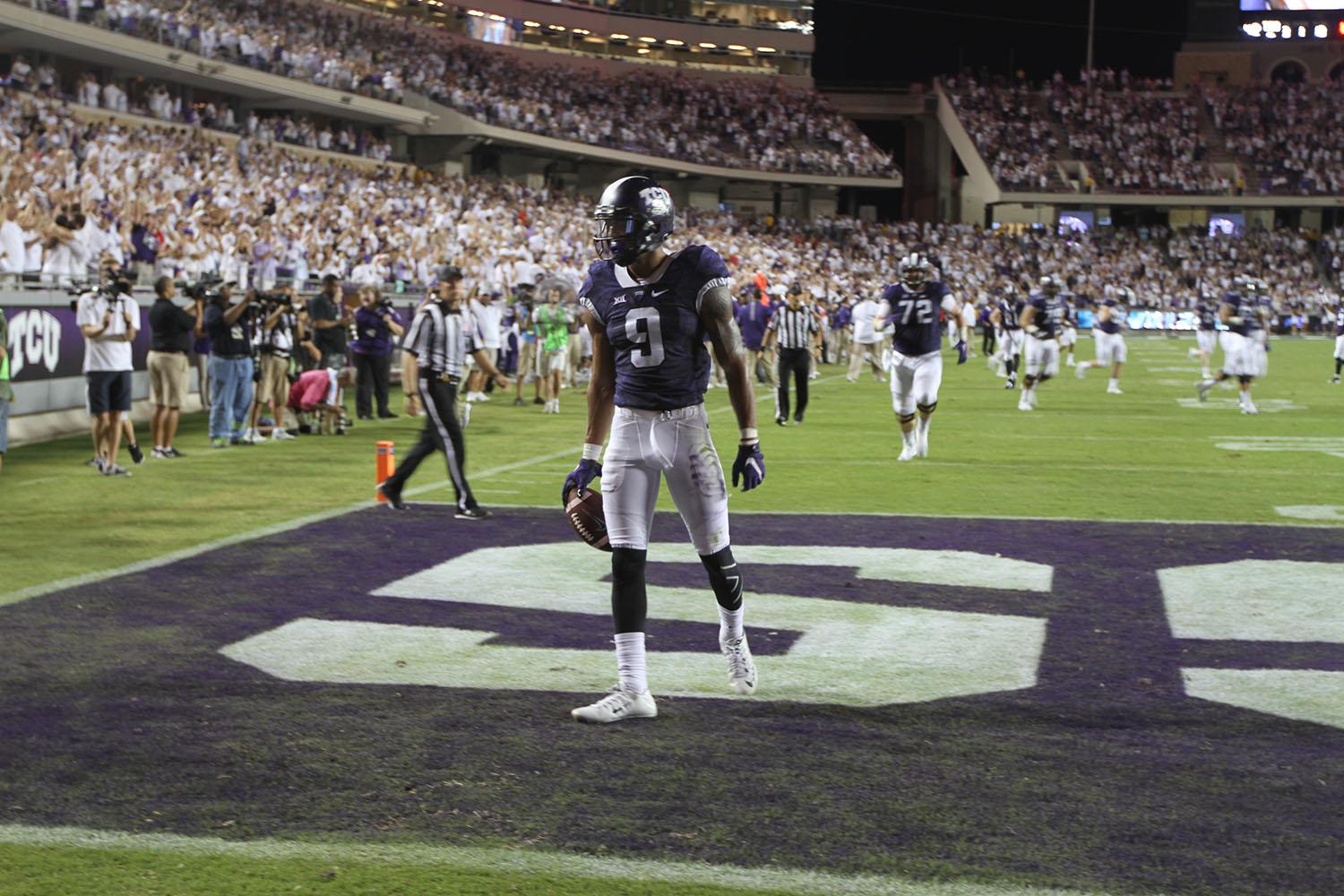 "It's an honor," Doctson said. "It's a great privilege to be considered one of the top three in your position, you know, with only playing X amount of games."
He is also injured and spoke to the media Tuesday with his left arm in a sling and purple cast. He said he's not thinking past Jan. 2 about the NFL draft.
"I guess I'm not really looking that far ahead," Doctson said. "I'm just looking to get out of this cast, to be honest."
"It's really uncomfortable," he said, wriggling his fingers.
The two also spoke about their connection on the field. Boykin threw for 3,575 yards this season, and Doctson led the Frog receiving corps by a landslide with 1,327. Neither of them played all 12 games. While these numbers aren't solely the two of them connecting for yardage, Boykin-Doctson plays have become highlight-worthy tape across the country.
"He's a great talent," Boykin said of his teammate. "He's probably one of the best receivers in college football. He tracks the ball in the air well, and we really just try to work very hard at what we do."
The quarterback said he began to notice what the two could accomplish last spring, but he said it was a progression. Doctson added the trust they have in each other is key.
"He trusts me, and I trust him to put the ball in the best position possible," the wide receiver said. "Sometimes it might be forceful, but when you've got one-on-one coverage, he'll try me regardless."
As for Boykin missing a Heisman invitation, Doctson said, "He's a Heisman in all TCU hearts."