Frogs cruise to 73-55 victory over Prairie View A&M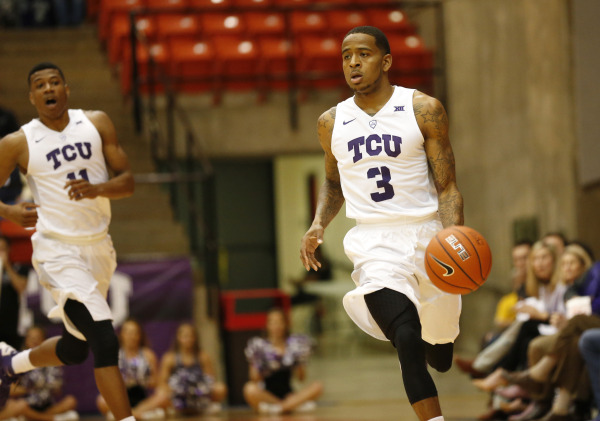 Published December 11, 2015
The Horned Frogs defeated the Prairie View A&M Panthers 73-55 Friday night at the Wilkerson Greines Activity Center in Fort Worth, improving to 5-4 on the season.
Sophomore guard Vladimir Brodziansky led the way in the victory with a team-high 16 points. The Frogs shot 47.8 percent from the field. Panthers' guard Admassu Williams was the high scorer of the game with 19 points.
The game got off to a slow start, as both teams were tied at only nine points apiece midway through the first half. TCU led the contest 26-23 at halftime. The Frogs shot just 35 percent from the field in the first half, while the Panthers went a dismal 20.7 percent.
"The positive thing about tonight is that we won," TCU head coach Trent Johnson said. "We played sluggish, and we've been like this coming out of the Washington game. I have to get this corrected in a hurry."
The pace would pick up in the second half however, with the Frogs jumping out to a 37-28 lead just over four minutes into the half. A 47-point second half would be enough to secure the victory for the Frogs in their final game at the Wilkerson Greines Activity Center for the foreseeable future.
Turnovers and free-throw shooting continued to be an issue for the Frogs despite the win. The Frogs committed 23 turnovers and shot 66 percent from the line.
"We're just not playing great basketball right now," Johnson said. "I don't know how many turnovers. We're trying to catch the ball with one hand, and we're trying to make hard plays."
Prairie View A&M remains winless on the season, now sitting at 0-8 with the loss.
The Frogs return to action when they host Abilene Christian University on Dec. 2o in the newly renovated Ed and Rae Schollmaier Arena on TCU's campus. The arena, which has been undergoing renovations since spring 2014, opens next week.