TCU falls short against No. 17 West Virginia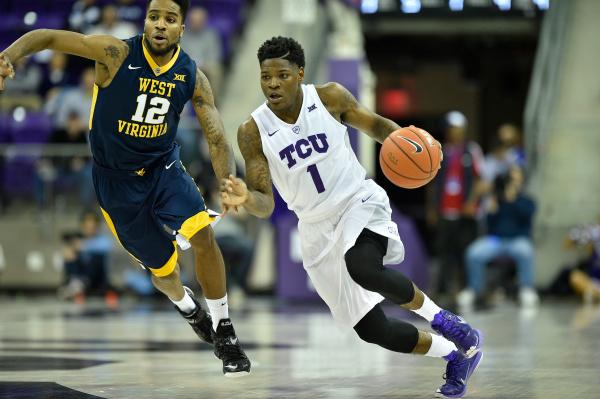 TCU fought hard against No.17 West Virginia on Monday night in a back-and-forth game, but faltered down the stretch in a 95-87 loss to the Mountaineers.
The loss drops TCU's record to 8-6 overall and 0-2 in Big 12 play. The Frogs are 0-7 all time against West Virginia.
The game was the Big 12 home opener for TCU, and the first men's conference game played in the new Ed and Rae Schollmaier Arena.
Even though West Virginia began the game on an 8-0 run, TCU was able to go into the locker room at halftime with a 47-45 lead.
The Frogs were powered by Chauncey Collins 11 points on 50% shooting from the floor and 100% shooting from the free throw line in the first half. Collins finished the game with a career-high 20 points.
Karviar Shepherd finished with 18 points, one point off his career high, to go along with five rebounds.
Shepherd said he was impressed by Collins' performance.
"I look for him [Collins] in these types of games, he's an aggressive player," Shepherd said.
Malique Trent also contributed 15 points to the Frogs' cause.
Turnovers played a significant role in TCU's strong first half performance, as TCU had seven fewer turnovers than the Mountaineers (10-17) and nine more points off turnovers (16-7).
What carried TCU to their somewhat surprising halftime lead and second half relevance was their efficiency at the free throw line, as the Frogs shot an impressive 35-40 (87.5%) at the charity stripe.
"It's because we're attacking the basket, doing exactly what we planned to do, and exactly what we want to do," TCU head coach Trent Johnson said.
West Virginia's 33 team fouls were the culprit for TCU's numerous free throw attempts; however, TCU also picked up 28 team fouls of their own in a game that got chippy at times.
West Virginia head coach Bob Huggins said officiating needs to be "more consistent."
To begin the second half, TCU surged to a 60-53 four minutes into the second half, but that's when the Frogs started to unravel. TCU accumulated nine second-half turnovers, and West Virginia heated up from behind the three-point line, making six of their eight three point attempts after the half.
With the game winding down the Frogs and Mountaineers traded punches like two prizefighters, but TCU forward Chris Washburn's technical foul for nudging a West Virginia player after a common foul  that he also committed put the Frogs in an incredibly difficult position, down five (77-82), 3:16 left in the game, and with West Virginia shooting free throws and then getting an extra possession.
The Mountaineers capitalized on the Frogs' mistake by sinking both technical free throws and then hitting a three on their extra possession to stretch their lead to 88-77 with 2:15 left in the game.
"We lost our poise and it hurt us down the stretch," Johnson said.  "I'm tired and they [TCU] should be tired of playing good teams and getting close."
West Virginia received a technical foul of their own after guard Tarik Philip dunked and hung on the rim with 33 seconds left in the game, but the assistance from the referees was too little, too late as the Frogs were still down eight after converting on their technical free throws, which ended up being the final deficit in the 95-87 loss.
"We were really close, and we made some great plays down the stretch," Shepherd said. "We made some bad decisions and it cost us."
The Frogs can leave the game today being very encouraged by the play of freshman forward JD Miller. Miller scored seven points, grabbed five rebounds, and only turned the ball over once in 18 critical minutes.
"He's very skilled," Johnson said." "He's not afraid to play in big moments, and he's going to get more opportunities."
TCU returns to the Schollmaier Arena hardwood Saturday night at 6 p.m. against the Texas Longhorns.