TCU alumnus Bob Schieffer said he took the advice of a high school mentor when he closed the curtain on his annual symposium.
The Schieffer Symposium on the News, a gathering of media leaders who discussed the state of journalism and popular topics in the news, ran for 11 years and featured some of the biggest names in the industry.
"I had a high school teacher one time who told me, you always want to leave the stage while they're still applauding," said Schieffer, who graduated from North Side High School in Fort Worth. "You don't want somebody to have to come out there with a hook, so I've always tried to follow that rule."
Schieffer announced his retirement as anchor of CBS News' "Face the Nation" at last year's Schieffer Symposium. He had anchored the Sunday morning program since 1991 as part of a 58-year career in news.
Humble beginnings
The Schieffer Symposium ran for 11 years, hosted 39 renowned panelists and attracted more than 10,000 attendees.
"Sometime last summer, I told Chancellor [Victor] Boschini that I just thought they were going to have to end sometime," Schieffer said. "We had such a good one last year where I announced my retirement, and we had a wonderful panel, so I thought it would be a good time to do it. And I always believe in ending on a high note."
In a recent phone interview with TCU 360, Schieffer reminisced about the event's humble beginnings in 2005. The event was a way of commemorating the naming of the Schieffer School of Journalism.
After talking to Boschini in 2005, Schieffer said he had the idea to invite his friends in the journalism business to the naming ceremony.
"I thought maybe I could get some of my friends to come down, and we could just talk about the news," Schieffer said.
That year, Schieffer invited Tom Friedman, foreign-affairs columnist for The New York Times; Bob Woodward, the associate editor of The Washington Post who covered the Watergate scandal; Jim Lehrer, former anchor and executive editor of "The NewsHour with Jim Lehrer"; Kate Lehrer, novelist and TCU alumna; and Tom Brokaw, former anchor of "NBC Nightly News," to speak for the first panel.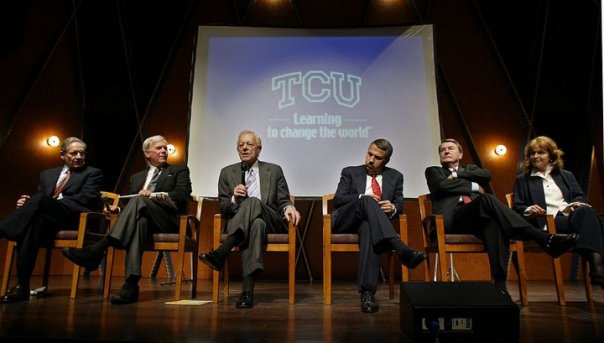 "We all just sat on the stage at Ed Landreth [Hall], and everybody got a kick out of it," Schieffer said. "So, we decided that on the anniversary of the naming we would do it again, and it just grew and evolved into this real event. I really feel like we had every top name in journalism."
Eight years after the first symposium, the Board of Trustees unanimously voted to move Schieffer's name to encompass the entire college of communication.
End of an era
When asked which panelist was his favorite, Schieffer left no room for hesitation.
"I always thought that my greatest coup over the years was when I got Tim Russert from 'Meet the Press,'" Schieffer said. "He was my direct competitor on Sunday morning, and he was just terrific."
John Lumpkin, former director of the school of journalism at TCU, wrote in an email that the event was the highlight of his time at TCU because of its profound effect on many students.
"Students were on location in our Convergence Center for a live broadcast of the CBS Evening News with Scott Pelley. … no doubt a unique experience for a journalism program nationwide," Lumpkin wrote. "More than that, they heard about the bravery of journalists covering conflict and received great advice about journalism as a career."
Since 2005, the Schieffer Symposium has not only been a highlight for TCU, but for Fort Worth as well.
"You meet these really brilliant people, and it generated some excitement, especially in the community," said John Tisdale, current chair of the department of journalism. "I'm really going to miss it, but I think it's run its course."
Although he won't be hosting the symposium, Schieffer said he'll still be seen around campus.
"I'm trying to get down there at least twice a semester to see how things are going," Schieffer said. "I sometimes try to time those around football season."
Schieffer will also be returning as an occasional political commentator for CBS through the 2017 inauguration.
Guess who's back!? 👏 The news is back in morning #news. @cbsthismorning is live in the East! #newsisback pic.twitter.com/ebrpTUtWFo

— CBS This Morning (@CBSThisMorning) January 14, 2016