Frogs fall in season opener 5-3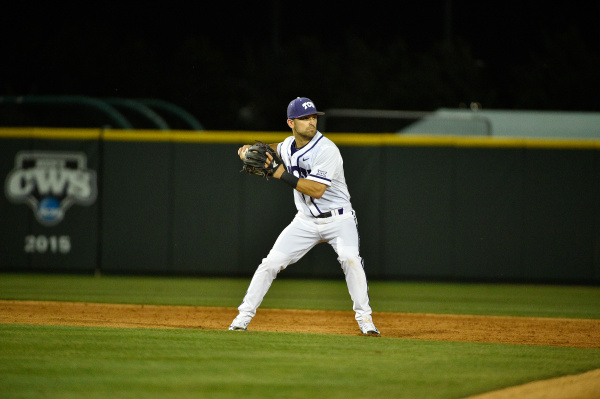 Published February 20, 2016
Opening night brought not only a crowd of fans to Lupton Stadium, but a hard fight for the Frogs against Loyola Marymount.
But ultimately, the Lions defeated the Frogs 5-3 in the season opener.
LMU jumped on TCU early, taking a 1-0 lead in the first inning by capitalizing on stolen bases. They furthered their lead in the third, making it a 3-0 game. TCU's starting pitcher Rex Hill went four and a third innings, allowing three runs and striking out seven.
Ryan Merrill had a two-RBI double in the fourth inning, cutting the Lions' lead to just one run. But the Frogs left Merrill stranded and couldn't make anything else happen.
Jared Janczak came in for Hill during the fifth inning, pitching a few solid innings and keeping the Frogs within striking distance.
Freshman Josh Watson tied the game at 3-3 when he hit a triple and later scored on an errant throw by the catcher.
Closing the game for the Frogs was redshirted sophomore Ryan Burnett. Burnett came in during the eighth inning, and while his pitching was there, the defense couldn't back him up.
Connor Wanhanen and Merrill both had costly errors that led to runs for the Lions late in the game.
TCU couldn't seem to get anything going. With a total of 12 hits on the night compared to LMU's seven, TCU wasn't able to connect those hits and make them timely.
It wasn't the start everyone was hoping for, but the team is young and inexperienced. It will take time for the young players to get used to playing every day.
TCU takes on LMU again tomorrow as they try to even the series at 2 p.m. in Lupton Stadium.