Frogs continue winning streak against ACU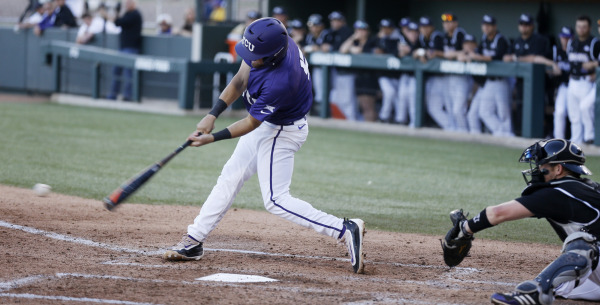 The TCU Horned Frogs beat the Abilene Christian Wildcats 6-4 Tuesday night and extended their winning streak to five games.
The Frogs chased the Wildcats' senior pitcher Nate Cole (4 IP,6 H, 6 R) in the first inning as senior Dane Steinhagen (1-4, 3 RBI; 2 SO) hit a three run homer over left center to cap off a six-run 1st inning.
"That was big, scoring all those runs on two outs," said head coach Jim Schlossnagle. "He had a great batting practice and it showed up in the ball game."
Tuesday starter Dalton Horton (6.0 IP, 5H, 4R 4 ERA) struck out 10 on 85 pitches for the win.
"I thought it was a pretty good team effort and team win," said Horton. "I just tried to settle in, do my job and give this team a chance to win."
The Wildcats, who have lost seven straight, battled back in the 7th by hitting a 3-run shot off Horton and ending his night.
Seniors Preston Guillory (2 strikeouts) and freshman Jared Janczak (0 hits) pitched the 7 and 8 innings, while freshman Durbin Feltman struck out the side for his first save of the season.
"Maybe he ran out of gas," said Schlossnagle about Horton. "He has 65 pitches coming into the inning but threw good pitches. That three run homer doesn't mean a thing to me, he was outstanding and I thought the story of the night was him. It's great for his confidence."
The Frogs were scoreless after the 1st inning.
"I didn't feel our energy was lacking. If anything, I think when you get up six-nothing and got a pitcher that's coasting, it's natural to kind of put it on cruise control, which may have been the case," said Schlossnagle.
Horton, who was a starter for his whole high school career, didn't see himself becoming the Tuesday starter when the season began.
"I wasn't really sure what my role was going to be coming into the season, I was just worried about always getting better and just doing whatever I could to help this team succeed and hopefully make it back to Omaha," Horton said.
The Frogs combined for a season-high 15 strikeouts. There was a 14-minute delay after the lights went out.
New basketball head coach Jamie Dixon threw out the ceremonial first pitch.
TCU returns to conference play this weekend as they play at the University of Texas this weekend March 24. The next home game is April 6 against the University of Texas at Arlington.