Students react to controversial speaker's views on radical Islam
A former congressman's views on how to fight radical Islamic terrorism were embraced and challenged Tuesday night by TCU students.
More than 200 people filled the Moudy North auditorium to hear Allen West, a Republican from Florida, argue that the military's ranks should be increased to fight terrorism.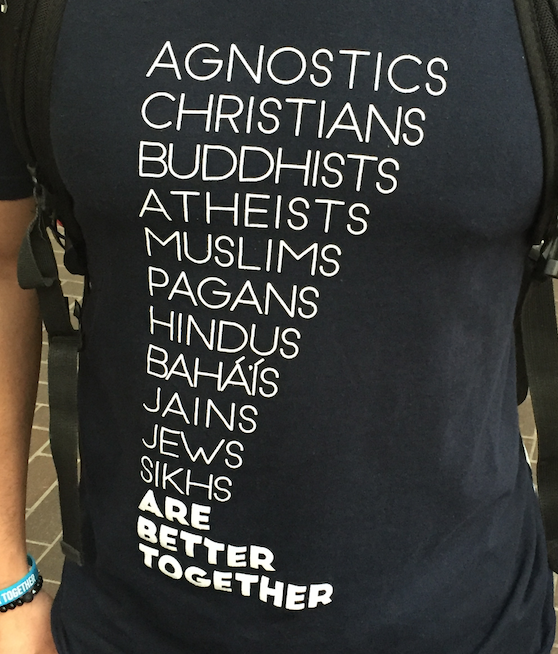 "We are at a point where we could lose this great experiment in liberty, freedom and democracy," said West, who was brought to campus by the group Young Americans for Freedom.

West's speech was received with quiet head nods. Once students started asking questions, tension became evident. Many attendees were there in protest based on comments West has made in the past regarding Islam as a whole.

More than 50 members of the TCU organization "Better Together" attended and wore t-shirts promoting coexistence and peace among religious affiliations.

West, who served in the military for 22 years, questioned the protest at the beginning of his speech.

"There was a little rumor that some people shared with me that upset me…if people wanted to shut down this event," said West, a retired Army lieutenant colonel.  "That means the oath that I took to this Constitution, to provide you your first amendment freedom of speech rights… if there are young people that felt that I should be denied that — or anyone else that, then what are we fighting for in the United States of America?"


Most questions from the audience were about past comments West had made via Twitter and other outlets. Jacob Greenstein, president of Better Together, called West's comments "a strong voice for someone who is Anti-Muslim and Anti-Islam."

Shelby Whitson, public relations chair of Young Americans for Freedom, said the organization tries to bring people to campus that TCU could benefit from.

"Our chapter tries to do different activism events each semester, bringing in conservative speakers or speakers we feel would be a good presence at TCU," said Whitson, who is a senior political science major. "Given the pressing nature of his area of specialty (anti-terrorism), we thought he would be a good fit at TCU."

Adam Powell, a senior history major, questioned West about delegitimizing the Muslim ideology. After a few moments of discourse, West told Powell, "You should probably sit down because you're embarrassing yourself. You tried though, I'll give it to you."

Afterward, Powell said West was disrespectful and "talking over everyone."

"For someone who advocates discussion and learning, I was very disappointed that he took that approach and tried to bully his way through it," Powell said.

Whitson said YAF welcomes differing opinions, but Greenstein said some students did not feel welcomed by West.

"The point that hurt the most was that he mocked so many people that went up and tried to go up and engage in some kind of dialogue with him," Greenstein said. "I found it very ironic that he made a very intentional point to talk about how this is supposed to be an atmosphere for education and discussion, and all he wanted to do was put down students that came from the opposite side."

Sijil Patel, a sophomore biology major who is Muslim, said West misrepresented her faith.

"Just like I trust him with his knowledge in military and foreign policy, because I have no experience with that, he should trust my judgment on knowing what a true Muslim is because I've been practicing and reading the Quran for 20 years," Patel said. "He skewed that very much so toward portraying Islam as a religion that promotes terrorism, whereas it's the complete opposite."

During his talk, West acknowledged his views are often controversial, but that doesn't bother him.

"I wear it as a badge of honor that I piss people off," West said.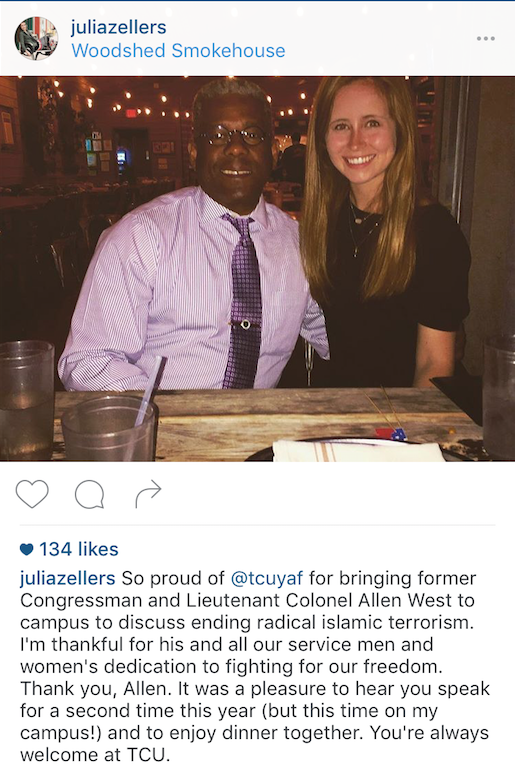 Mackenzie Holst contributed to this report.