TCU drops rubber match 3-1 to Texas Tech; Frogs lose 2nd straight Big 12 series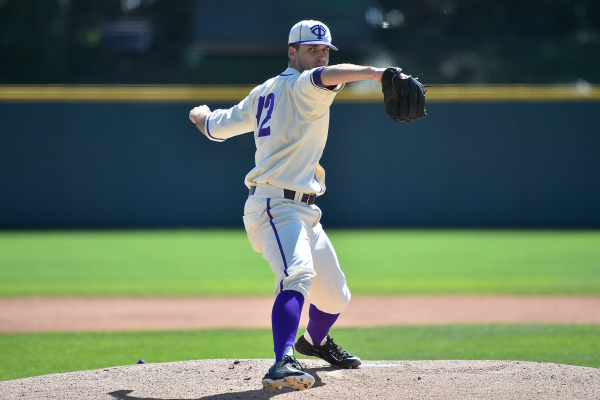 Walks were a problem for the TCU pitching staff all weekend. Head coach Jim Schlossnagle made that clear after the Frogs issued seven free passes on Sunday.
"Just horrible," he said. "Just a total lack of respect for the pitching tradition of this program by our pitching staff."
TCU starter Rex Hill threw 4.2 innings of 4-hit ball but issued 5 walks and hit a batter on Sunday, giving Texas Tech plenty of opportunities to score in the Frogs' 3-1 loss.
As a whole, the TCU pitching staff issued 15 walks in the 3-game series.
"Everything we are about is pitching and throwing strikes, and this pitching staff refuses to commit to it," Schlossnagle said.
Two of the three Texas Tech runners who scored were put on base by walks. After a leadoff walk and a double in the third, the Red Raiders scored two runs on an RBI groundout and a bases-loaded sac fly.
Texas Tech pushed across another run in the fifth on a wild pitch, making it a 3-0 game.
After outscoring the Red Raiders 13-6 on Saturday, the TCU bats were mostly quiet on Sunday. TCU couldn't figure out Texas Tech starter Ty Damron, who came into the game with a 5.89 ERA in 36.2 innings.
TCU finally scratched across a run in the sixth after a leadoff double by third baseman Elliott Barzilli. After a pitching change, Barzilli broke for third on a wild pitch and scored when the catcher's throw sailed into left field.
"Damron pitched really well," Schlossnagle said. "We couldn't get to anybody's fastball, really."
The bullpen kept the Frogs within striking distance. Freshman Sean Wymer gave up two hits and two walks over 2.1 scoreless innings. Freshman Durbin Feltman followed with two perfect innings in the eighth and ninth.
"Wymer and Feltman obviously pitched well [to] give us a chance, but credit Tech for how they battled," Schlossnagle said.
A two-out rally in the ninth gave TCU runners on third and second, but Texas Tech's Parker Mushinski got pinch hitter Michael Landestoy to line out to right.
"Really proud of Michael and proud of our guys for putting us in that position at the end," Schlossnagle said.
TCU is now 30-12 on the season and 11-7 in Big 12 play after dropping two of three to Texas Tech. The Frogs have now dropped two straight Big 12 series after losing two of three against Oklahoma State last weekend.
The Frogs will head to Pennsylvania on May 6 for a 3-game set against Penn State.