Frogs close regular season with 9-3 win, sweep over Kansas State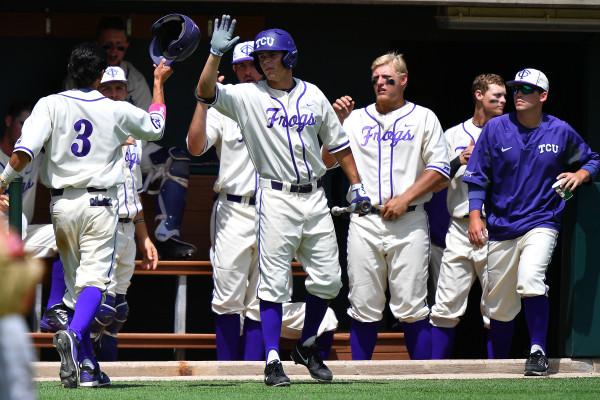 The Wildcats lost the strike zone, and the Frogs made them pay.
TCU closed out its regular season by completing the sweep of Kansas State in a 9-3 victory at Lupton Stadium on Sunday. A six-run TCU fifth inning sparked by two walks, two hit-by-pitches and four hits was a big part of the win for the Frogs.
TCU freshman Jared Janczak, in his second career start, gave up just a solo homer to Kansas State's Jake Scudder in the second. Janczak retired the final 10 Wildcats he faced, giving up three hits and no walks over five innings of work.
"He was outstanding," head coach Jim Schlossnagle said. "With the way the [Big 12 Tournament] is set up, we didn't want him to go much beyond 70-75 pitches because he could have to be back as early as Friday if we're there beyond two games."
Schlossnagle said the Frogs' six-run fifth inning "certainly made it easier" taking out Janczek before the sixth.
The Kansas State pitching staff struggled after two close games earlier in the series. Kansas State used nine pitchers on Sunday, and the staff combined to issue nine walks and six hits in the game.
The TCU bullpen took over in the sixth but would lose its streak of more than 16 straight scoreless innings. Sophomore Drew Gooch gave up two runs on three hits in the seventh. Senior center fielder Dane Steinhagen then got a run back on a sac fly in the bottom of the inning.
In his final regular season game, Steinhagen notched two hits, an RBI and a walk.
TCU finishes the regular season with a 38-14 overall record (15-9, 3rd place in Big 12). The Frogs will now take a 5-game win streak into the Big 12 Championship Tournament on Wednesday.
"I certainly feel like we have high standards around here, and no one has higher standards than the coaching staff and the players," Schlossnagle said. "Thirty-eight wins on a club that's had a bunch of injuries on the mound to this point against a really good schedule, and to be a top 15 or 16 ream in the RPI…we'll take it."
TCU will play Baylor at 4 p.m. in Oklahoma City on Wednesday.
"I still feel like our best baseball is ahead of us," Schlossnagle said. "I really feel like we are going to play well in the postseason."