TCU volleyball looking to build on last year's success: Season starts 7 p.m. Friday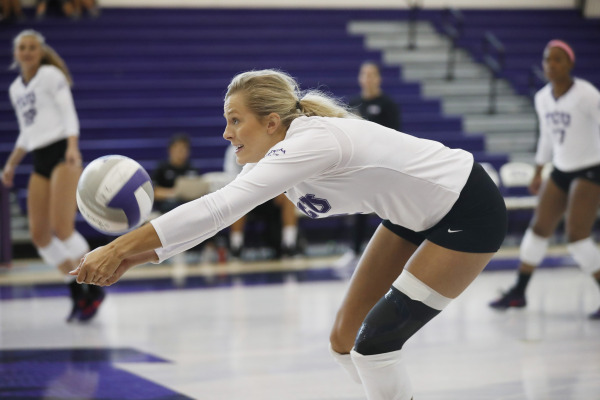 Coming off its second-best season in program history, TCU volleyball is eyeing a deep NCAA Tournament run. The Horned Frogs kick off their season Friday against North Carolina State.
Director of Volleyball Jill Kramer said she likes the way her team looks. She said the team is healthy, blocking well and has bulked up its non-conference schedule.
"They put a lot of work in and preparation," Kramer said. "They all trust and believe in one another and that's what it takes to get things done. I believe we have to people to do that this year."
Last season, the team was ranked as the seventh-best blocking team in the country.
"We only have three players under six feet on the team, but blocking isn't always about size," Kramer said. "We spend time on teaching girls to read the game well and that is what a lot of blocking is about."
Outside hitter Ashley Smith, one of six players to be named unanimously to the Preseason All-Big 12, is coming off knee surgery.
But Kramer said that Smith's injury might have actually helped her become a more complete player. She said while recovering, Smith focused on aspects of her game that she didn't need her knee for — like loosening her arm swing and her passing platform.
"Ashley's stronger in her core, which directly affects her arm swing, that's the biggest thing I've seen, and her passing platform was already good, but she's been able to improve her platform and her court vision," Kramer said.
The team's most important position, setter, is still in play. Last season, senior Alexia Heist and sophomore Kaylee Smith split time at the position, yielding positive results. This season, Smith is in the hunt to be the top setter, but faces new competition from junior Lamprini Konstantinidou.
Konstantinidou followed Kramer from West Virginia and sat out all of last season due to the NCAA transfer rules. She is also the setter for the junior Greek national team.
In addition to N.C. State, the Horned Frogs non-conference schedule includes University of North Carolina Chapel Hill and Duke University.
"Now, I know this team really well and they're hungry and ready for the challenge," Kramer said. "I don't see them backing them down from anyone."
The 2016 TCU volleyball recruiting class is ranked No. 15 according to the Top 30 Collegiate Recruiting Classes that was released by PrepVolleyball.com, which marks the first time in program history that TCU's incoming recruiting class is ranked.
Fans are also a key part of the team's success. TCU sold out all but one home game last season; that was the best attendance in the Big 12 and one of the best in the nation.
"We had Penn State's head coach here, Russ Rose, doing a coach's clinic with us over the summer," Kramer said. "He said, 'I'm never bringing my team to come play here, this is one of the toughest places to play in the country.'"
First serve against the Wolfpack is 7 p.m Friday in the TCU Recreation Center.