Five things to know about the first half of TCU vs. Oklahoma, 24-35
TCU and Oklahoma resumed their rivalry Saturday night in Fort Worth. All four Big 12 meetings have been decided by seven points or less. Oklahoma holds a 10-5 series advantage over TCU. The last time the teams played in Fort Worth, the Frogs upset the Sooners 37-33.
Here are five things to know about the action-packed first half between the two Big 12 powers.
1.Baker Mayfield read option runs and trick plays fooled TCU.
For most of the first quarter, the Oklahoma Sooners' vaunted offense was held in check until TCU quarterback Kenny Hill threw interception that put Oklahoma in the Horned Frog red zone. OU pounded the football into the end zone with four consecutive runs, and Baker Mayfield tricked the TCU defense with a read-option fake handoff to his running back, only to take the ball four yards into the end zone himself.
Mayfield also capped off another scoring drive at the beginning of the second quarter with a second rushing touchdown on a read-option run fake to his running back.
The Sooners also deceived the TCU defense on a flea-flicker late in the second quarter when Mayfield handed off to running back Joe Mixon, who then pitched the football back to Mayfield, who immediately hit wide receiver Dede Westbrook for a 67-yard passing touchdown. Westbrook also caught a 40-yard touchdown from Mayfield two possession after their flea-flicker connection.
2.Turnovers plague both teams.
After it appeared that Kenny Hill had turned a new leaf by starting the game off on a high note, Hill threw an early interception on TCU's second possession, which the Sooners converted into a touchdown.
Mayfield fumbled the football on Oklahoma's first possession of the game, which immediately resulted in a TCU touchdown when Hill hit wide receiver Jaelan Austin for an 18-yard touchdown on the very next play.
TCU also converted a second Mayfield fumble into a field goal as time expired in the first half. Both teams will look to cut down on their mistakes in the second half.
3.Targeting rears its ugly head, and Baker Mayfield injured again.
In 2015, a Ty Summers big hit on Mayfield was called for targeting, and Mayfield left the game with an apparent concussion In 2016, another TCU linebacker,Paul Whitmill, hit Sooners' return man and running back Joe Mixon across the helmet on a Mixon fair catch attempt. Whitmill was ejected from the game, and Mixon was fine.
With just a few minutes left before halftime, Mayfield was hit and sacked by TCU defensive linemen Josh Carraway and Joseph Broadnax, which resulted in Mayfield's second fumble of the game. While Mayfield was hit, his right leg and knee were twisted in an uncomfortable direction, causing the OU quarterback to head to the locker room early.
In 2015, Mayfield did not return for the second half, and the Oklahoma offense struggled. This year, another injury to Mayfield could alter the trajectory of the game.
4.Kenny Hill starts out strong.
After struggling in the first half against Arkansas and SMU, Kenny Hill turned it around against Oklahoma on Saturday. Hill threw for 213 yards and three touchdowns on 15-27 passing in the first half, including a 61-yard pass to Kyle Hicks.
5.Kyle Hicks makes a significant impact in the passing game. 
While TCU running back Kyle Hicks only rushed for 51 yards on nine carries in the first half, he more than made it for it as a receiver. Hicks hauled in three passes for 69 yards, including a 61-yard touchdown pass that the Frogs up 21-7.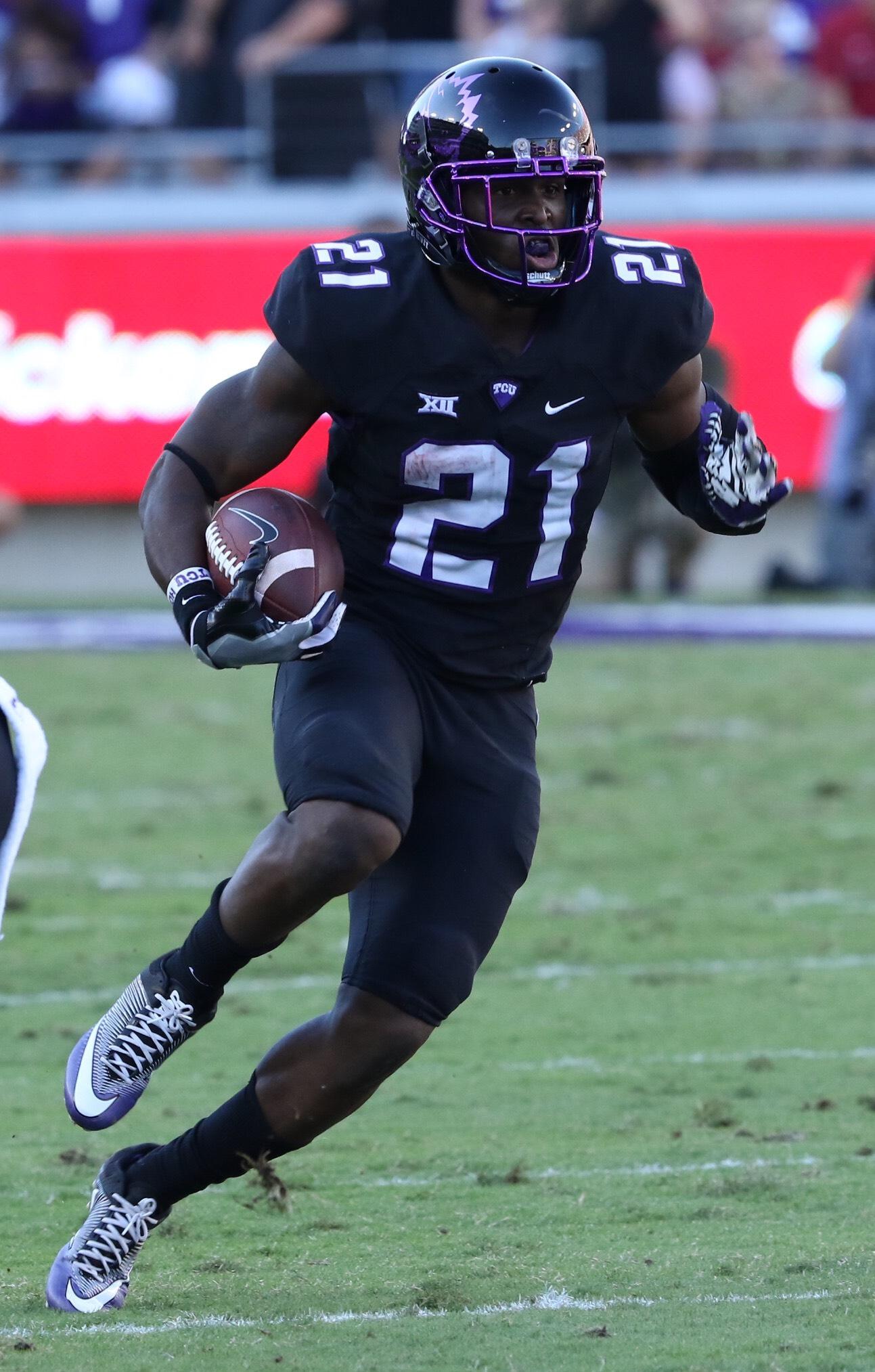 Oklahoma took a 35-24 lead into halftime.