KaVonte Turpin
The TCU offense may get the "wow factor" back Saturday against Texas Tech.
Wide receiver/returner KaVontae Turpin, who was in uniform last week but didn't play, is expected to play.
Head coach Gary Patterson said Turpin didn't play against West Virginia because he was between 80 and 90 percent healthy and the coaches decided to wait one more week. 
"I think you'll see Turpin back this week," Patterson said.
Turpin's return could jumpstart the offense. 
Patterson said the biggest thing for the offense is working to get their swagger back.
"I think we lost a little bit of it [swagger] when Turpin left because he was kind of our wow factor," he said. "Now, he's going to come back, so we'll see when that factor comes back."
Turpin hasn't played since injuring his knee Sept. 17 against Iowa State. 
Turpin was TCU's leading receiver at the time of his injury with 16 catches and 196 yards receiving. He was averaging 19.5 yards per touch and was 13th in the nation in all-purpose yards at 169.3 yards per game. Through two games, he was leading the country at 236.0 yards per game.
Despite his history of big plays on special teams, Turpin won't be returning kicks and punts just yet.
"I don't know if we'll see him[Turpin] back there returning with those being some of the most violent plays of the game," Patterson said.
Before his injury, Turpin led the NCAA in punt returns (28.8 yards) and was one of just two players nationally to rank in the top 10 in punt returns and kickoff returns. Turpin was eighth in kickoff returns (32.8 yards).
Texas Tech
The Red Raiders offense, led by junior quarterback Patrick Mahomes II, represents a difficult challenge for the Horned Frog defense.
TCU senior defensive end James McFarland said that Texas Tech will be "a big offensive challenge."
Mahomes threw for 734 yards and five touchdowns in Saturday's 66-59 loss to Oklahoma. He also ran for 85 yards on 12 carries for 810 yards of total offense.
Patterson said when it comes down to defense, they have to find a way to tackle better.
"We're fourth in the Big 12 [in defense] and we don't think we're any good," he said.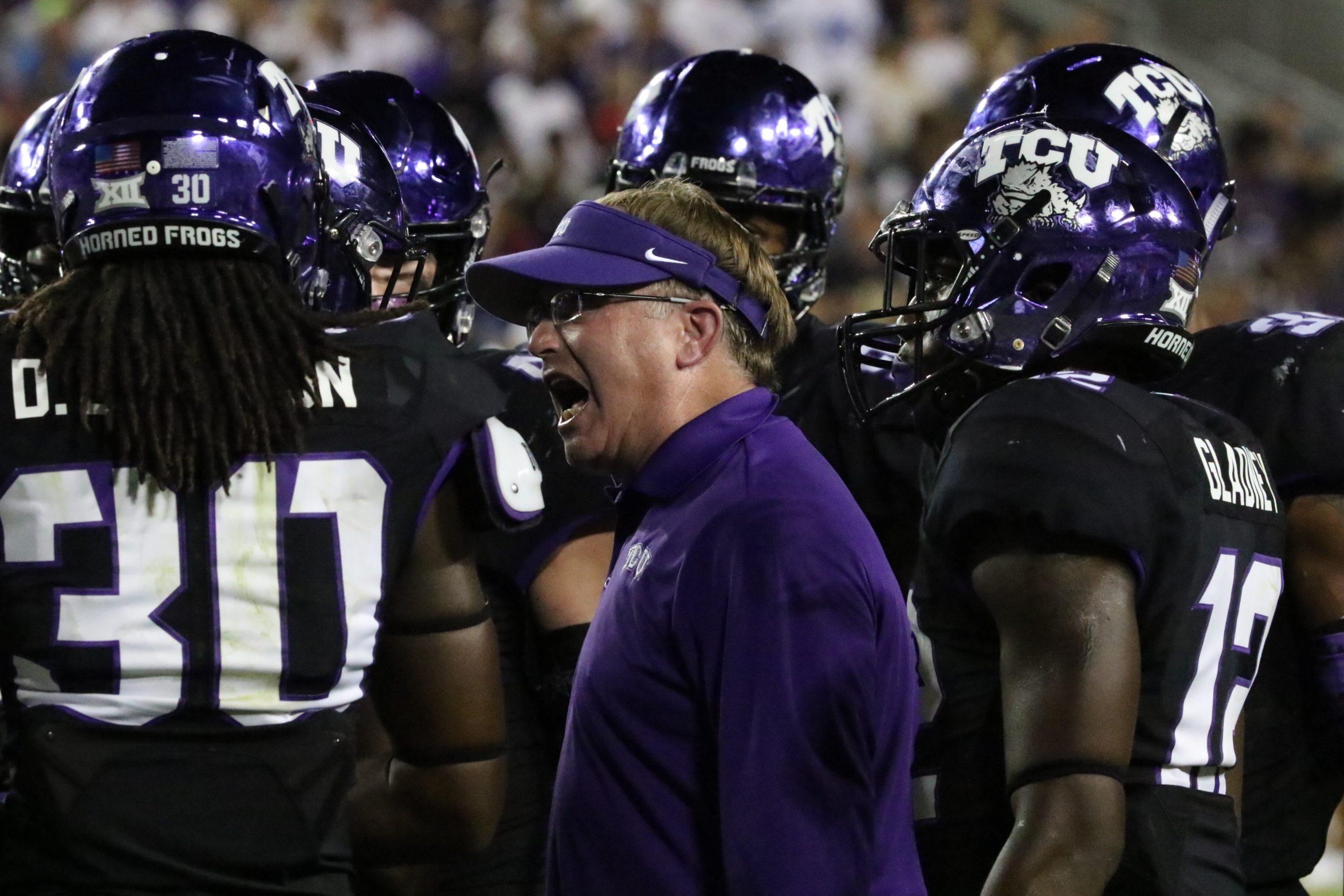 After playing four of its first five games at home, TCU returns home for the first time in four weeks. 
Texas Tech leads the all-time series over TCU 30-25-3, and the Horned Frogs are 3-3 against Texas Tech under Patterson. TCU has won the last two games, having defeated the Red Raiders 82-27 in Fort Worth and 55-52 in Lubbock.
Kickoff is set for 2:30 p.m. at Amon G. Stadium.