TCU fell to Texas Tech in double overtime, 27-24, after Red Raider kicker Clayton Hatfield nailed a 37-yard field goal. Texas Tech now leads the all-time series over TCU 31-25-3.
Here are five takeaways from the Horned Frogs performance.
1. Foster Sawyer replaced Kenny Hill as quarterback
TCU quarterback Kenny Hill threw a deep ball to the end zone that was intended for KaVontae Turpin late in the third quarter, but was intercepted by Texas Tech defensive back Douglas Coleman in the end zone. After Texas Tech punter Michael Barden bobbled the snap on a punt attempt, TCU began their next possession on the Red Raider 15-yard line. Hill was replaced on the possession by redshirt sophomore quarterback Foster Sawyer after the offense had only mustered 10 points.
"I didn't pull him[Hill], [offensive coordinator and QB coach] Sonny [Cumbie] did," TCU head coach Gary Patterson said. "We weren't playing very well."
With Sawyer at quarterback, TCU capped off the possession with one-yard touchdown run by Trevorris Johnson to take a 17-10 lead early in the fourth quarter.
In overtime, Sawyer matched score for score with Patrick Mahomes II. After Mahomes scrambled for 15-yard touchdown to start overtime, Foster thread the needle to wide receiver Desmon White for a 25-yard touchdown that forced a second overtime. The pass was Sawyer's first touchdown this season and third of his career. The catch was White's his first scoring grab of the season and second of his career.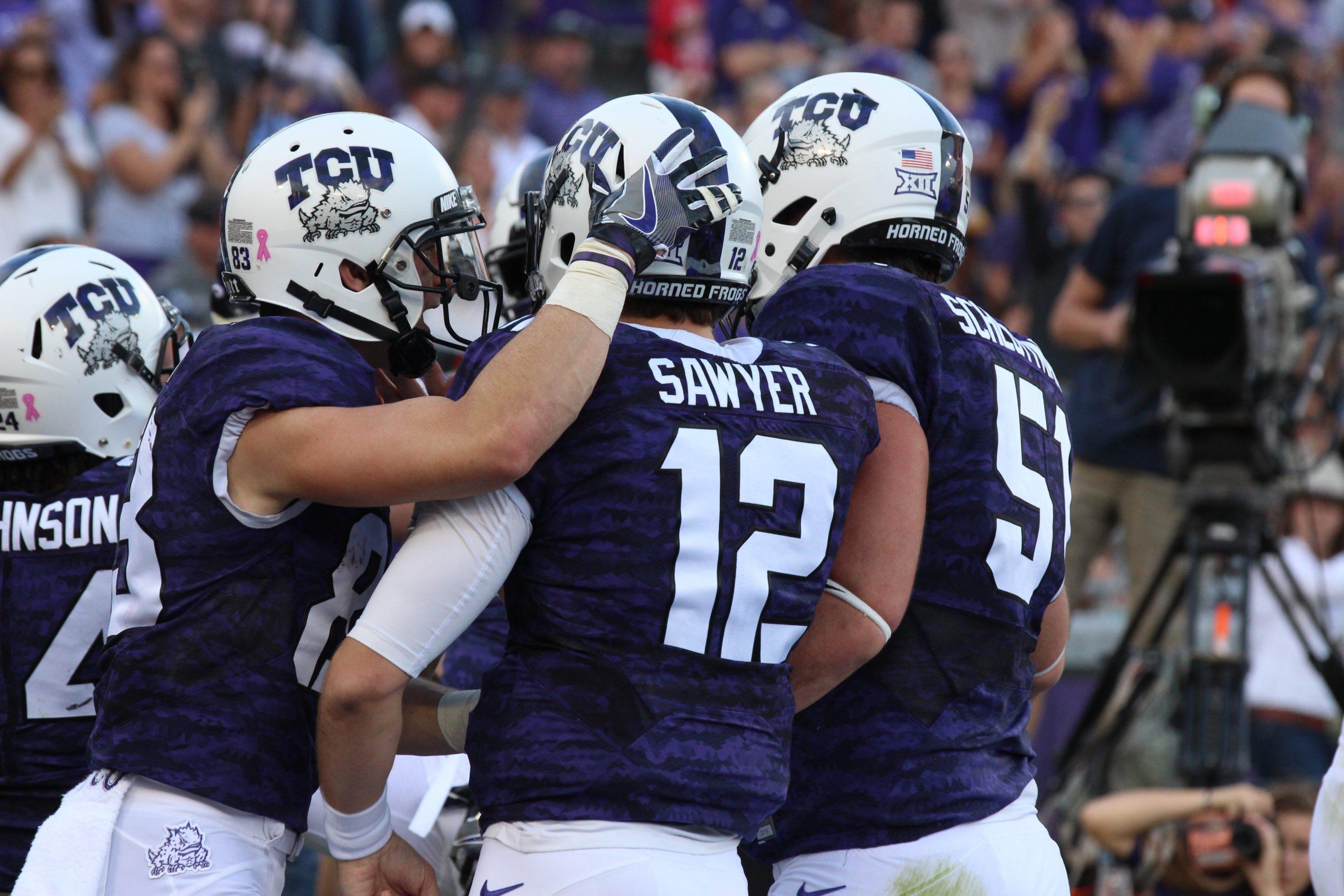 "Both quarterbacks have to play better," Patterson said. "I thought Foster did some good things."
2.TCU defense held down high-powered Texas Tech offense
TCU held Texas Tech to 17 points and 315 yards of total offense in regulation. The Red Raiders entered the game as the nation's leader in total offense (640.3 yards per game) while ranking second in the country in scoring (50.3 points per game).
"We can feel proud that we held them to 17 points in regulation because that's one of the top offenses in the nation coming off a week where they had over 800 yards, but nothing feels that great after a loss," safety Nick Orr said.
The Horned Frog defense dominated Tech offense early, forcing turnovers on their first two possessions.
Safety Nick Orr intercepted Red Raider quarterback Patrick Mahomes II at the TCU one-yard line for his team-leading fourth pick of the season. The interception was Orr's sixth of his career, most among active Horned Frogs.
"I think having at least five [interceptions] this season would be good, but as long as we can get some wins I don't care about how many interceptions I get," Orr said.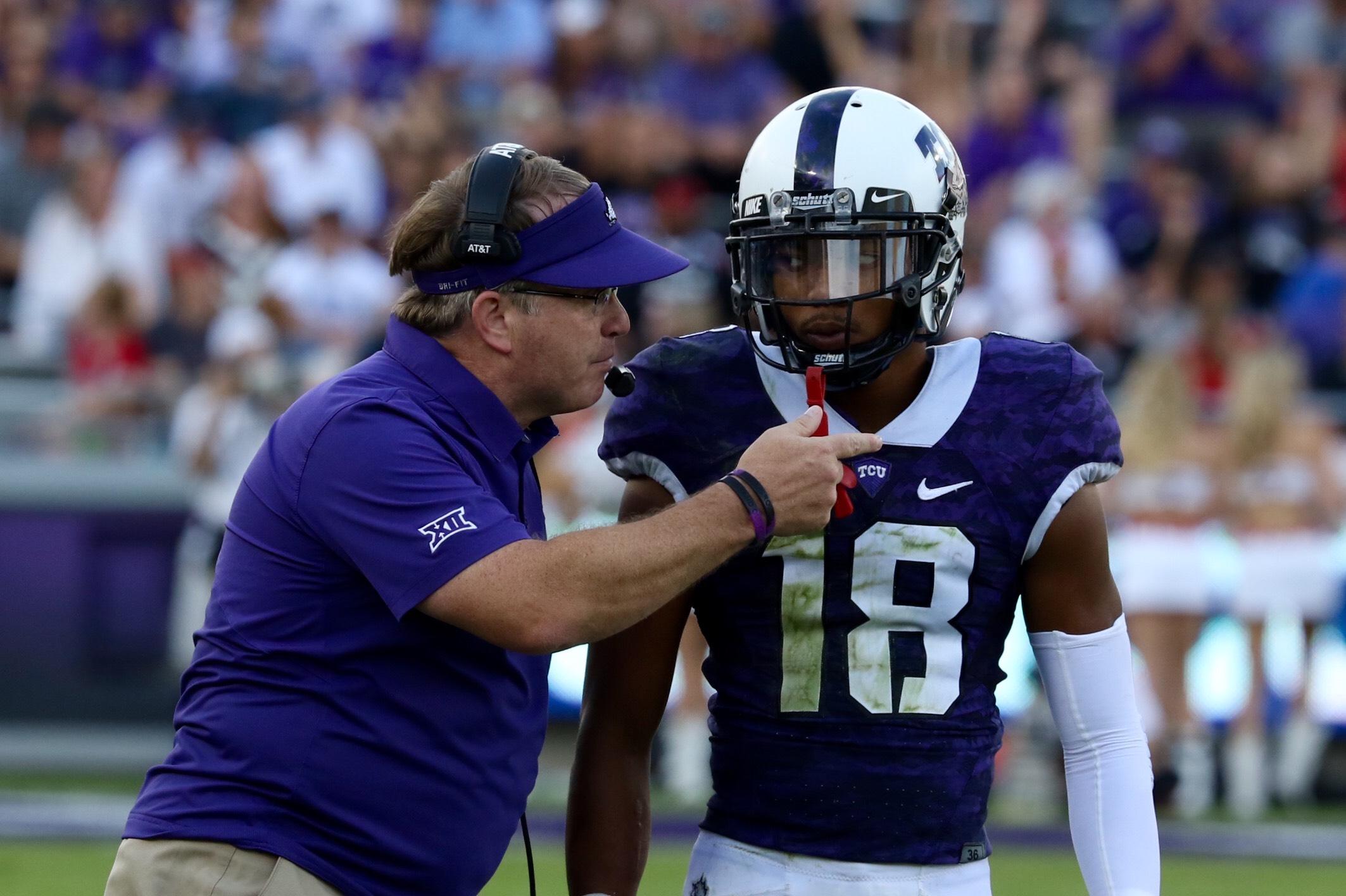 TCU defensive end Matt Boeson forced a fumble on Mahomes and defensive tackle Chris Bradley recovered the football.
"The defense played unbelievable, and they're going to keep getting better and better," Patterson said.
3.Matt Boesen dominated
Junior defensive end Matt Boesen had himself a day. He recorded ten tackles, two sacks, and forced a fumble. His two sacks increased his season-total six, most on the team, and his ten tackles were the most by a Horned Frog defensive lineman this season.
"He's [Boesen] undersized, but he's tenacious," Patterson said. "When Carraway came out, we needed someone to step up and he [Boesen] did."
Boesen's teammates felt the same way about his performance as their head coach did.
"He's [Boesen] been getting back there and applying pressure all season, plus he's faster than an average defensive lineman and he's strong," Orr said. "He's been making plays since the spring."
4.Brandon Hatfield had a rough day
TCU kicker Brandon Hatfield missed his first field goal attempt from 37 yards, his second missed field goal of the season, but he connected on his second field goal of the day from 23-yards out.
With under eight minutes left in the game, Hatfield missed another field goal from 32 yards out that would've given the Horned Frogs a two-possession lead. Instead, the score remained 17-10 TCU. On the possession right after Hatfield's miss, Patrick Mahomes II led the Tech offense on a 16-play, 80-yard scoring drive that concluded with an eight-yard Mahomes II touchdown pass to wide receiver Dylan Cantrell. The touchdown pass tied the game up at 17 a piece with 1:30 left in the game, which allowed the game to go to overtime.
In double overtime, Hatfield lined up for a a 39-yard field goal and shanked it wide left.
"The one place Hatfield doesn't kick as well is off the left hash, and the last three field goals he missed were all off the left hash," Patterson said. "One was our fault because we should've run before time was out to put the field goal in the middle of the field for a better angle," Patterson said.
5. KaVontae Turpin returns
Wide receiver/returner KaVontae Turpin returned to the starting lineup at wide receiver and didn't disappoint. Turpin led TCU in receiving with four catches for 39 yards, and he returned a fourth quarter kickoff for 28 yards.
"We limited Turpin because we didn't know how much he could do in his first game back, but he made some plays and made a difference when he touched the ball," Patterson said. "His role will expand as we move forward with the rest of the season."
However, Patterson would like to see other players step up as well. "It can't just be all about Turpin," Patterson said. "Other people have to make plays and tough catches."
TCU hits the road next Saturday to play the Baylor Bears in Waco. Kickoff is set for 2:30 p.m.