TCU women's soccer defeats Texas 3-2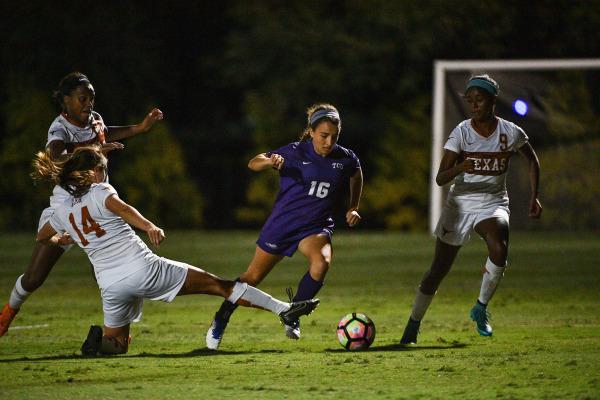 TCU women's soccer beat the University of Texas on Friday, 3-2, to advance to the Phillips 66 Big 12 Championship.
In the first half, both teams were able to find the back of the net twice; the first three goals coming within the first 12 minutes and 7 seconds. 
Head coach Eric Bell said that his team started off the match exceptionally.
The first goal came from junior forward Emma Heckendorn, who was assisted by sophomore midfielder Karitas Tomasdottir. The second goal was assisted by freshman midfielder Tara Smith to sophomore forward McKenzie Oliver to tie the game at 2-2 in the 38th minute.
When asked about the two goals the Texas Longhorns scored, Bell said, "that wasn't typical of how we defend."
In the second half, the Frogs turned up the pace and in the 63rd minute, received a corner kick. Senior midfielder Lauren Sajewich placed it perfectly for junior forward Allison Ganter to cash in on her third game-winning goal of the season.
Bell said that his team fought and took advantage of the opportunity to score.
"We got a chance on a set piece," Bell said. "We were able to dig it out and fight for it."
Bell said Sajewich had a "great feed" to Ganter and Ganter "sneaked it in" to put the Frogs up 3-2.
This pivotal match saw 2,667 fans in attendance, ranking third in all-time stadium history attendance. Bell said he hopes that having that many fans in attendance "becomes a trend." 
TCU will play Kansas on Wednesday, Nov. 2nd at 5:30 p.m. at Rock Chalk Park.