The benefits of heavy bag boxing

Boxing is a workout anyone can do, not just Muhammad Ali or Mike Tyson.
The workout strengthens the entire body and mind. All that is needed for a boxing workout is a pair of gloves, hand wraps, and a 100-pound heavy bag.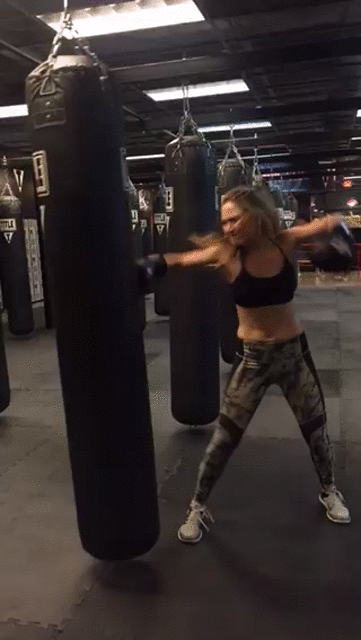 The general manager at Title Boxing's Downtown Fort Worth location, Barry Foval, said that the workout is for anyone and Title even starts boxers as young as eight.
During an hour boxing class at Title the average calorie burn is 750 but with an extra push the burn rate can be as high as 1200.
Foval said the workout is about how much you put into it and that you learn as you go.
Unlike other workouts, after boxing your body is on a gradual decline and thus continues to burn calories.
"For the next 30 minutes to an hour, you're still burning a decent amount of calories," Foval said. "But as you come down it's less and less."
Not only does boxing result in a high calorie burn–it also conditions the entire body, especially the core.
Foval said heavy bag workouts are great for conditioning and work the entire body.
While boxing is a great physical workout, it is also an incredible mental workout.
In fact, Foval said that recent studies have actually shown that boxing is one of the best workouts for people with Alzheimer's as it works their minds to remember the punch combinations.
Another mental benefit of boxing is that it relieves stress.
"It's a really good way to relieve stress," a boxer at Title, Claire Powell, said. "I think just being able to take all your anxiety or stress out on the bag."
Boxing is a productive way to get out pent up aggression, Foval said.


"Hitting something instead of hitting someone can kinda help out," he said.
Another benefit of boxing is learning self defense skills.
"It's good confidence builder for a lot of people learning how to defend yourself because you do learn how to hit and kick correctly," Foval said. "It's also just to kind of understand that within an hour you can get so much more done than most people can do on their own in two to three days in multiple workouts, it gets a lot more done. It's a good just kinda release for everything that you do."
While many include boxing in their workout regimen, everyone has their own reason why they love it.
"It's just something that you get to look forward to everyday," Powell said. "At Title they make sure to really focus on you and the trainer really works with you and helps you strengthen what you need to strengthen."
A typical hour boxing class at Title starts off with a cardio warm-up, eight rounds of boxing, and abs to finish off strong. Title also offers a shorter 30 minute class, among other things.
Locals can try boxing out at one of Title Boxing's two Fort Worth locations, downtown on the Corner 4th and Lamar or on Hulen Street. Title has other locations in Texas as well as 32 other states and Mexico.