Soccer falls in the Big 12 Championship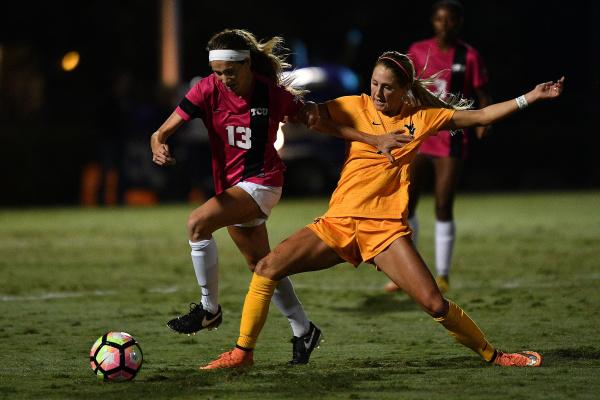 TCU fell to No. 1 West Virginia in a 3-2 overtime decision on Sunday night in the Big 12 Championship game. West Virginia rallied back with three unanswered goals.
In the first half of the game, TCU did not waste any time getting things started. Within four minutes, senior forward Michelle Prokof snapped West Virginia's 11 match shutout streak.
The offense wasn't the only ones putting in work for the Frogs, though. TCU defense put a line up around first-year goalkeeper Katie Lund. Lund forced stops when necessary, but the defense did their job of keeping the Mountaineers away, forcing shots from a distance.
In the 40th minute, TCU found themselves an opportunity to score again. Junior forward Allison Ganter broke past her defenders and found the back of the net, giving TCU a 2-0 lead. TCU is the only school to score two goals against the Mountaineers this season.
However, West Virginia kept pushing. In the 59th minute, the Mountaineers cut their lead in half, 2-1, on a score from Michaela Abam.
West Virginia completed its comeback in the 97th minute. Ashley Lawrence scored off of an assist from Hannah Abraham's cross for the game-winning goal.
Head coach Eric Bell said that he was really proud of his team and he thought they were going to be able to pull through.
"They played really hard," Bell said. "We played the No. 1 team in the country toe-to-toe for 100 minutes. We should be in the tournament."
TCU will learn its NCAA tournament fate Monday afternoon when the field of 64 is announced.
Editor's note: All stats and quotes courtesy gofrogs.com