Women's basketball opens season with victory over Incarnate Word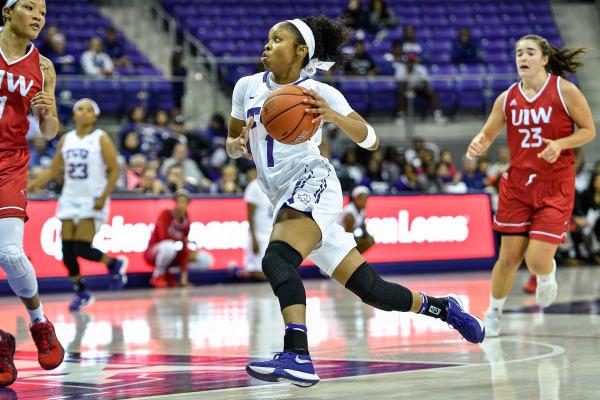 The women's basketball team dominated in their first regular season game against Incarnate Word, winning, 88-40.
TCU led 13-7 with over eight minutes left in the first quarter. Sophomore transfer from USC Amy Okonkwo hit two 3-pointers on back-to-back possessions and extended the TCU lead to double digits, 19-9, to end the first quarter.
Okonkwo had an outstanding breakout game scoring a total of 21 points, 10 rebounds and four assists. She shot 7-of-9 overall, 3-of-4 from deep and 4-of-4 from the free throw line in her debut as a Horned Frog.
"After a whole year of practicing and not being able to play in the games; that was a learning a experience." Okonkwo said. "Now being able to be on the floor with my teammates is an amazing opportunity. I'm so grateful for it."
TCU ended halftime with a 15-point lead.
The Frogs came alive in the third quarter holding UWI to only six points while extending their lead even further with a 26-6 advantage.
TCU ended the night with a 88-40 victory over UWI.
Sophomore center Jordan Moore joined Okonkwo in double figures with 10 points on 5-of-6 shooting, while narrowly missing a double-double with nine rebounds.
"I really worked on [conditioning] in the summer and we worked a lot in practice this last week getting the ball into the post, so just being able to have a presence early is important," Moore said on the differences in her game this year compared to last season.
In a balanced effort, all 13 Frogs played at least 10 minutes. Nobody played more than 21 minutes and every player scored a minimum of four points.
"We want to get them as much experience as we can," head coach Raegan Pebley said. "I would love to be able to have a rotation that gets at least ten deep, to be able to stay fresh on the floor mentally and physically."
First-years Mikayla Christian, Ella Hellessey, Amber Ramirez and Kianna Ray all made their career debuts against Incarnate Word. At one point in the fourth quarter all four of TCU's freshmen were on the court together, along with Moore.
Ramirez, the first McDonald's All-American in TCU history, posted a game-high three blocks.
Pebley said the next game is always the most important one.
"We have to train at a consistent level no matter what game is next or what game is coming in two weeks," Pebley said. "Sam Houston State is the most important thing right now."
The Horned Frogs will face Sam Houston State on tonight at 6:30 p.m. in the Ed & Rae Schollmaier Arena.