Women's basketball pulls off nail-biter win over McNeese State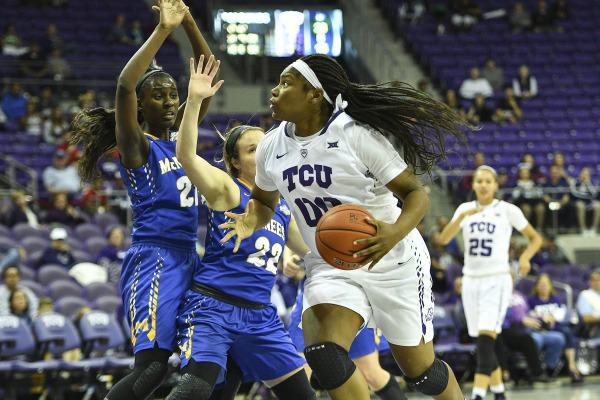 After a sloppy start, the TCU women's basketball team put together a strong second half to win a close battle over McNeese State. The Frogs came out on top, 74-70.
The Frogs struggled early in the game, committing nine turnovers in the first quarter. McNeese was able to build up an early lead, scoring 13 points off of those turnovers. After the first quarter, McNeese led 19-14.
TCU head coach Raegan Pebley said she was not pleased with how careless the Frogs were with the ball.
"Our turnovers really kept shooting us in the foot," Pebley said. "Offense is so much about rhythm and when a third of your possessions are interrupted by turnovers it fuels their defense and builds their confidence."
McNeese continued to build their lead, knocking down eight three-pointers in the first half. The Cowgirls led 34-26 at half time.
About midway through the third quarter, TCU forward Amy Okonkwo began to dominate for Frogs. Okonkwo scored six straight points followed by an AJ Alix three to bring TCU within two points, 44-42.
After trading short runs, McNeese held a 51-48 lead heading into the fourth quarter.
Starting the fourth quarter strong, McNeese came out scoring six straight. However, the Frogs forced a few turnovers and capitalized with nine straight points capped by an Alix steal and a layup by Jada Butts to tie the game at 57.
The Frogs took their first lead of the game when freshman Kianna Ray hit a three with 4:07 left in the game. The Frogs were now leading 65-62.
Okonkwo caused some serious problems for the Cowgirls down low, scoring 15 of her game-high 17 points in the second half on an efficient 8-11 shooting effort.
Okonkwo said the guards' ability to get stops on defense gave her the opportunities to score some big buckets down the stretch.
"They pressured the ball," Okonkwo said. "Our guards played great defense and made them turn over the ball and we were ready to go execute on the offensive end."
With one minute to go, the game was tied at 70. The Frogs were able to force a big turnover, followed by a huge bucket and three-point play opportunity by Ray with 37 seconds left. Ray missed the free throw, but the Frogs had a 72-70 lead with 30 seconds left to play.
Down by two, McNeese had one last chance to force the game to overtime.
On their last possession, McNeese looked to take the lead with a three late in the shot clock, but Alix came up with a huge block to force a shot clock violation.
The Frogs got the ball back with six seconds left and Toree Thompson knocked down two free throws to give the Frogs the 74-70 victory.
Pebley said she was worried and expected a close battle coming into this game.
"I knew we were a little fatigued coming in," Pebley said. "McNeese is a good, disciplined team. We're really fortunate to have won this."
The win pushes the Frogs to a 6-3 overall record. TCU has two more non-conference games before Big 12 play begins.
The Frogs will have a week off for finals before they host Texas Southern next Sunday in the Schollmaier Arena. Tip-off is set for 1 p.m.