Horned Frogs to attend Presidential Inauguration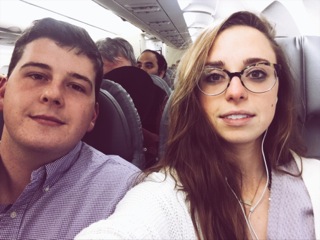 Around 800,000 people are expected to attend President-elect Donald Trump's inauguration Friday and at least two of those in attendance are Horned Frogs.
 Seniors Kelsey Ritchie and Ryker Thompson have been talking about going to the inauguration since September, and when they found cheap plane fights, Ritchie said they couldn't pass up the opportunity to attend the inauguration for the first presidential election they could vote in.
 "After the election and the way it turned out, we realized that this wasn't the inauguration experience that we were expecting, but it is still an incredible moment in history," Ritchie said.
For Thompson, the event reminds him of the power voters have.
"Sometimes it's easy to feel disconnected from government or feel like your voice doesn't matter," Thompson said. "Seeing the inauguration and seeing the government transitioning, it's a great way to see the impact your vote can have on the government."
Ritchie and Ryker arrived in Washington, D.C. Tuesday. They are volunteering at Thursday night's Texas State Society Black Tie and Boots Inaugural Ball. The ball is one of several state and national inaugural balls that are hosted every four years.
Ritchie is volunteering as a guest greeter and escort and Thompson is helping with registration to check guests into the ball.
They attended training for the event Wednesday at the Gaylord National Resort and Convention Center.
 "We kept looking at each other like — no way this is real." Thompson said. "It's just so cool."
In addition to meeting with fellow Texans at the ball, Ritchie and Thompson have been meeting up with TCU alumni in the D.C. area – they are even staying with an alum for the week. Ritchie said more people reached out to her after she posted a selfie with Thompson on Instagram saying they were headed to DC.
"It has been incredible," Ritchie said. "I have been blown away by the TCU network in DC."
After the inauguration the two plan to join Saturday's Women's March On Washington. The grassroots event is drawing groups from across the country, according to its website.
Ritchie said her reason to participate in the march comes back to the election.
"This election has shown me the glass ceiling in politics is absolutely still there," Ritchie said. "That's why I want to march, to show support to females who feel that that class ceiling has shot them down."
The timing of the march, so close to the inauguration, is also not lost on Thompson.
"I think both events are great displays of democracy at it's finest," Thompson said. "The transition of power and the right to free speech."