TCU roars past Longhorns in resounding fashion, 78-63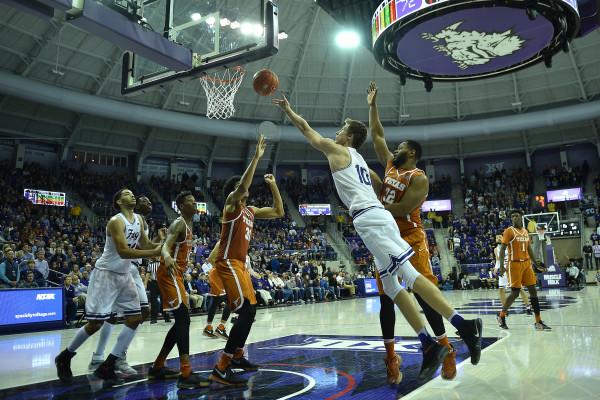 TCU left no doubt Saturday in a 78-63 victory over the Texas Longhorns at Schollmaier Arena.
The Horned Frogs swept the season series against the Longhorns for the first time in 30 years, since the 1986-1987 campaign which was Head Coach Jamie Dixon's senior season with the Horned Frogs.
The win improved TCU's record to 16-7 and 5-5 in the Big 12. The five wins represent their most in five seasons in the conference.
The 2016-2017 season is also the first time since 1958-59 that TCU beat Texas in football and swept the Longhorns in basketball in the same season. 3 out of four in basketball and three in a row in football. 1958-1959 was TCU alum and Dallas Cowboys legend Bob Lilly's senior year.
"Texas is Texas, it means something and we understand that," TCU head coach Jamie Dixon said.
The Horned Frogs retired basketball legend Kurt Thomas' No. 40 jersey at halftime on Saturday as well. Thomas selected the Texas game specifically for his retirement ceremony.
"He picked the Texas game to do it, and I'm glad that's part of it," Dixon said.
It was also Retro Rewind day in Fort Worth Saturday. TCU's Nike Elite uniforms were a replica of the ones worn from the years 1949-50 to 1963-64 with the word "Frogs" written in script.
"I think we should whip them out again because they're nice, I like them a lot," Robinson said. "We should get some away jerseys too."
Dixon gave his stamp of approval on Robinson's request. "Whatever they want, they deserve it because they've bought in completely," Dixon said. "Chris [Del Conte] says he doesn't care about budgets anyways."
After leading the Longhorns by just three at half time, 38-35, the Horned Frogs pulled away in the second half on the strength of two 7-0 runs, one coming with 14 minutes left in the game and other other occurring with 4:30 left in the game. TCU led Texas for 37:15 of a possible 40 minutes of game time.
TCU only allowed UT to hit on two of their thirteen three-point attempts, none in the second half. "I thought if they could hit three's, they would have a chance to beat us," Dixon said. "We wanted to take away the three's."
The key to both of those runs was the Horned Frogs' ability to string together made baskets, possession after possession, which is something TCU hadn't been able to do until Wednesday night against Kansas State.
"We're just knocking down shots," TCU guard Alex Robinson Jr. said. "Sometimes they just don't go down, but right now,they're going in."
TCU shot 51.7 percent from the field, giving it three straight games over 50 percent from the field for the first time since February 2001.
Robinson's 17 points gave him four straight games in double figures and 15 on the season. He also totaled eight assists for the second straight game. It was his fifth game of the season with at least eight assists.
"It feels way better when we're shooting good because it gives us the confidence," TCU forward Vladimir Brodziansky said. "I think it's also players putting extra work in at the gym in the nights and mornings, working on their shots."
Brodziansky had a team-high 18 points to reach double figures in scoring for a team-best 16th time this season.
After the game, both teams assessed the Horned Frogs' postseason prospects.
"TCU is definitely deserving of the NCAA tournament," Texas Longhorns' head coach Shaka Smart said.
Dixon agreed with his assessment. "Yeah, there's no questions we're an NCAA tournament team," Dixon said. He would know, having guided his Pitt teams to 11 NCAA tournament appearances in his 13 seasons at the helm before coming to TCU this season.
"It's been a goal since Day 1, and Coach Dixon said this isn't rebuilding," Robinson said. "It's about winning now, and it'd be sweet to send the seniors off that way."
TCU's next game is Tuesday night at Schollmaier Arena against the Texas Tech Red Raiders. Tipoff is set for 8 p.m.