Women's basketball tops Kansas, 80-68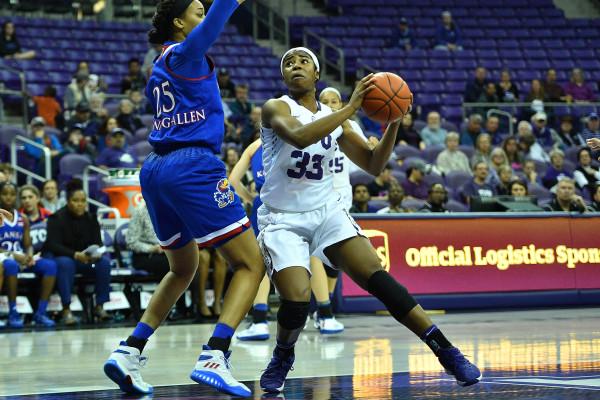 Women's basketball returned to the .500 mark this weekend (11-11, 3-8 Big 12) by marching into the Allen Fieldhouse for a 80-68 win over Kansas on Sunday in Lawrence, Kansas.
The Horned Frogs only led 35-32 at the half, but junior AJ Alix would explode for 22 second half points to propel TCU to victory, bringing her total to 25 on the day. Alix sunk three three-pointers in the win and was a perfect 8-8 from the free throw line.
Alix wasn't the only player to impress, as sophomore Jordan Moore recorded a career-high 18 points with 14 rebounds in the win.
After a tightly contested first three quarters, with TCU only up three points midway through the third frame, the Lady Frogs were sparked by an Alix layup off a feed from senior Jada Butts on a fastbreak. The Frogs would go on to score six points in 10 seconds, extending their lead to nine points with just more that six minutes to play in the quarter.
The Jayhawks would come back to make it a two point game before the third quarter ended, but couldn't get over the hump. The Frogs would pull away for good during an 18-point fourth quarter performance from Alix, leading by as much as 16 points.
The Lady Frogs dominated the game in multiple categories beyond the scoring department. TCU out-rebounded Kansas 31-19 defensively and 12-4 offensively, good for a 43-23 edge. The rebound margin was the largest in program history since joining the Big 12.
TCU also led 18-10 in assists and 20-11 in turnovers, though the Frogs only cashed in on 16 points off turnovers opposed to the Jayhawks' 18.
The frogs will look to break through the .500 mark on Wednesday when TCU hosts Texas Tech at the Ed and Rae Schollmaier Arena. Tip-off is set for 7 p.m. with the game to be broadcasted on FOX Sports Southwest.