Around campus, there are signs with a Google type bar saying "She wanted it" and "She wanted it to stop."
One in five women and one in 16 men are sexually assaulted in college, according to NotAlone.gov.
This semester TCU is saying goodbye to Not On My Campus sexual assault campaign and welcoming the It's On Us campaign.
Not On My Campus was brought to campus in 2014 to prevent sexual assault.
Last year when the student body vice president of external affairs, Kelsey Ritchie, was running for her current position she talked to many students about the Not On My Campus campaign, and she received a lot of negative feedback.
"I had a lot of students say they felt like it was sending the wrong message by saying [sexual assault] doesn't happen here, but it absolutely does," Ritchie said. "[It] sent the wrong message that those people didn't have a place to speak up, so I wanted to change that."
Joe Biden started the national campaign, It's On Us, during the Obama administration to prevent sexual assaults on college campuses.
The campaign aims, "to make people aware of the ways they can intervene, stop sexual assault and support victims," Ritchie said.
She also said she thinks TCU handles sexual assault cases well, but many times these cases go under the students' radar.
Last fall Ritchie traveled to West Virginia for a student government conference and presented a proposal that suggested all Big 12 schools come together to adopt the It's On Us framework.
"At the conference, all Big 12's student body presidents and vice presidents came together and filmed a video about It's On Us and featured the hashtag 'Big12Together'," Ritchie said.  
"The video will be coming out in a student body email Monday morning, along with a letter that the representatives from all the schools have written together," she said. "The video will set the tone for the week by saying: Yes, this is an athletic conference that has a lot of sexual assault issues, but we are coming together to say no to it."
This week, TCU and the other Big 12 schools will be using the hashtag on social media accounts and having an It's On Us week by highlighting how other schools prevent sexual assault.  
It's On Us week at TCU includes bystander training, "Coffee with Cops," a panel and banner for the community to sign.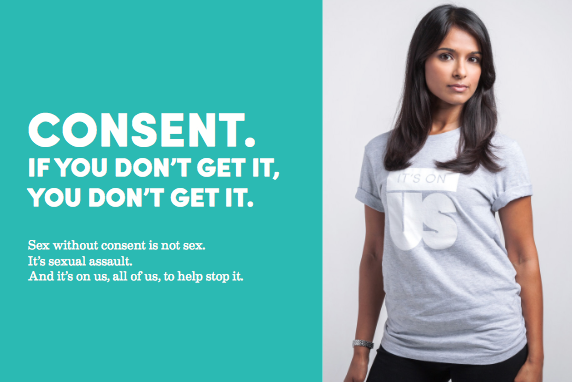 "I would love to see more peer support and more peer advocacy because it makes the issue a lot more comfortable to talk about because it's talking to your peers," Ritchie said. "You're not talking to the administration or an adult in that situation."
Freshman biochemistry major Krupa Patel said she was excited to be part of this campaign because sexual assault is a topic she holds close to her heart.
"As bystanders, we can bring awareness in the community and better prepare our peers by showing them ways they can be helpful," Patel said. "Most people don't know what to do or how they can help, so just providing helpful steps on how to intervene can make the biggest impact!"
Junior early childhood education major, Delaney Paul, said she hopes to see many students at the King Family Commons building on Feb. 13 for bystander training. The training will go from 5:30 p.m to 8 p.m.
"The best way to stop sexual assaults is to educate yourself on this kind of stuff," Paul said. "We can lower sexual assaults on our campus if we know what to look for, and what to do if we see something happening."