Early offense sets tone for Frogs in 13-5 victory over Rice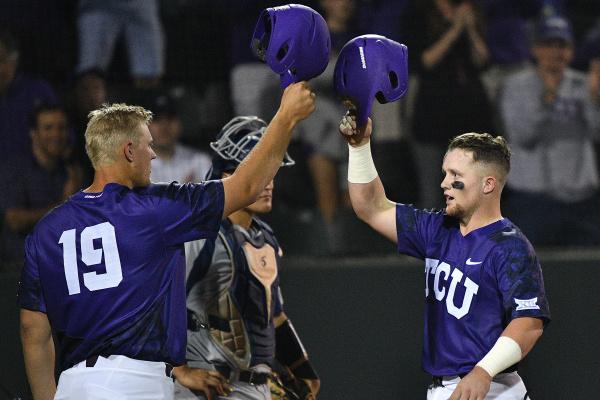 The Frogs ended their four game home-stand with a hit parade that led to the 13-5 win over Rice University on Tuesday at Lupton Stadium.
The Frogs' offense showed no remorse as they put up 10 in the first two innings against the Owls. In the first inning, Evan Skoug knocked one out of the park with a runner on base and Cam Warner soon followed with a two-run double.
Taking advantage of a pair of Rice errors, the Frogs were able to have six players make their rounds on the bases in the second. Elliott Barzilli put one in play just over the third baseman, which kick-started the rally. RBIs by Josh Watson, Cam Warner and Ryan Merrill gave TCU a very comfortable 10-0 lead after two innings.
Rice was able to get on the board with a solo home run in the third off freshman pitcher Jake Eissler. Eissler picked up the win in relief, allowing only one run on four hits in 2 ⅓ innings. Eissler came in after starting pitcher Mitchell Traver had only seen three batters. TCU head coach Jim Schlossnagle said Traver felt some discomfort in his back.
Traver missed the majority of the 2016 season due to a muscle strain in his back. When he felt discomfort once again after just two outs, he signaled to the bench to be taken out of the game.
With such a young bullpen, the Frogs put multiple freshmen on the mound in relief. TCU used seven pitchers, with four true and one red-shirt freshman pitching for at least one inning in the win over the Owls.
Austen Wade tallied his second home run of the season by hitting an opposite field home run to lead the fifth inning. Wade extended his hitting streak to seven games and has reached base safely in all but one game the Frogs have played.
Another Watson RBI on a two-out single in the seventh gave TCU their 13th and final run of the game.
In the top of the eighth Rice squeezed in four runs off of Trey Morris, but it was not enough to combat TCU's quick start in the first two innings of the game.
The next stop for the Horned Frogs is Houston, Texas for the Shriner's Hospital for Children College Classic at Minute Maid Park. The No. 1 Frogs (7-1) are on the front end of what are likely to be several tough contests as they face No. 4 LSU (8-1) on Friday at 7:05 p.m. before taking on No. 15 Texas A&M Saturday and No. 11 Ole Miss on Sunday.