TCU suffers 'devastating' one-point loss against Kansas State, 75-74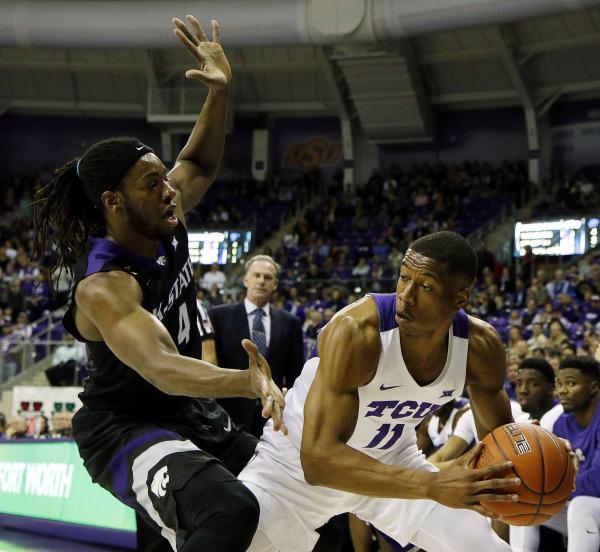 The Horned Frogs needed a win against Kansas State Wednesday night to hold on to sixth place in the Big 12 in hopes of securing a first round bye in the conference tournament, but TCU dropped their sixth game in a row.
The frogs dropped their third-straight home game and suffered their second one-point loss in the last five days, 75-74.
"Obviously we couldn't have had a more disappointing loss on senior night, given our bubble situation losing by one point," TCU head coach Jamie Dixon said.
Senior night didn't go as planned for TCU's four seniors, and senior guard Brandon Parrish put into words how the team felt about their sixth consecutive defeat.
"This one hurts more than any loss I've had since I've been here to be honest, and this is the most devastating with how much we had on the line and gave it away," Brandon Parrish said. "We fought, but at the end of the day it's a loss."
The Horned Frogs battled back from a 13-point deficit on the strength on a Parrish-fueled 11-0 row with just under 5:30 left in the game to cut the KSU lead to one, but TCU could never regain the lead.
"It was good to see Brandon give us some shot-making, but we didn't guard good enough at the end of the shot clock and in one-on-one situation to get the job done," Dixon said.
KSU jumped out to their double-digit lead early, hitting six first-half three's and used their plus-three advantage, 31-28, to stay in front.
"We got out-rebounded that can't happen, they shot 45%, that can't happen," Dixon said. "All the things we say we need to do we don't do,and that's why we've lost six in a row."
However, both Dixon and Parrish looked ahead to the Big 12 tournament in Kansas City next week as one last chance to make a lasting impression for the NCAA Tournament Selection Committee.
"Certainly we could win some games in the conference tournament which could change everything, I've been a part of those teams," Dixon said.
Parrish emphasized moving past Wednesday's loss as soon as possible.
"If we want to have a chance at this thing, we can't put our heads down for too long even though this loss is going to hurt," Parrish said. "We have to head to Kansas City and put it all on the line and be better than we've been all season knowing that pressure is on."
TCU's last regular season is Saturday in Norman, Oklahoma against the Oklahoma Sooners. Tipoff is set for 2 p.m.