Sustainability on campus shows progress but has further to go
Through a spring 2016 TCU community survey more than half of the students indicated that they don't think TCU has an effective recycling program.
This survey on how to improve recycling was conducted by Wendy Macias, an associate professor of advertising who is involved in ad-hoc university committee on TCU and the environment.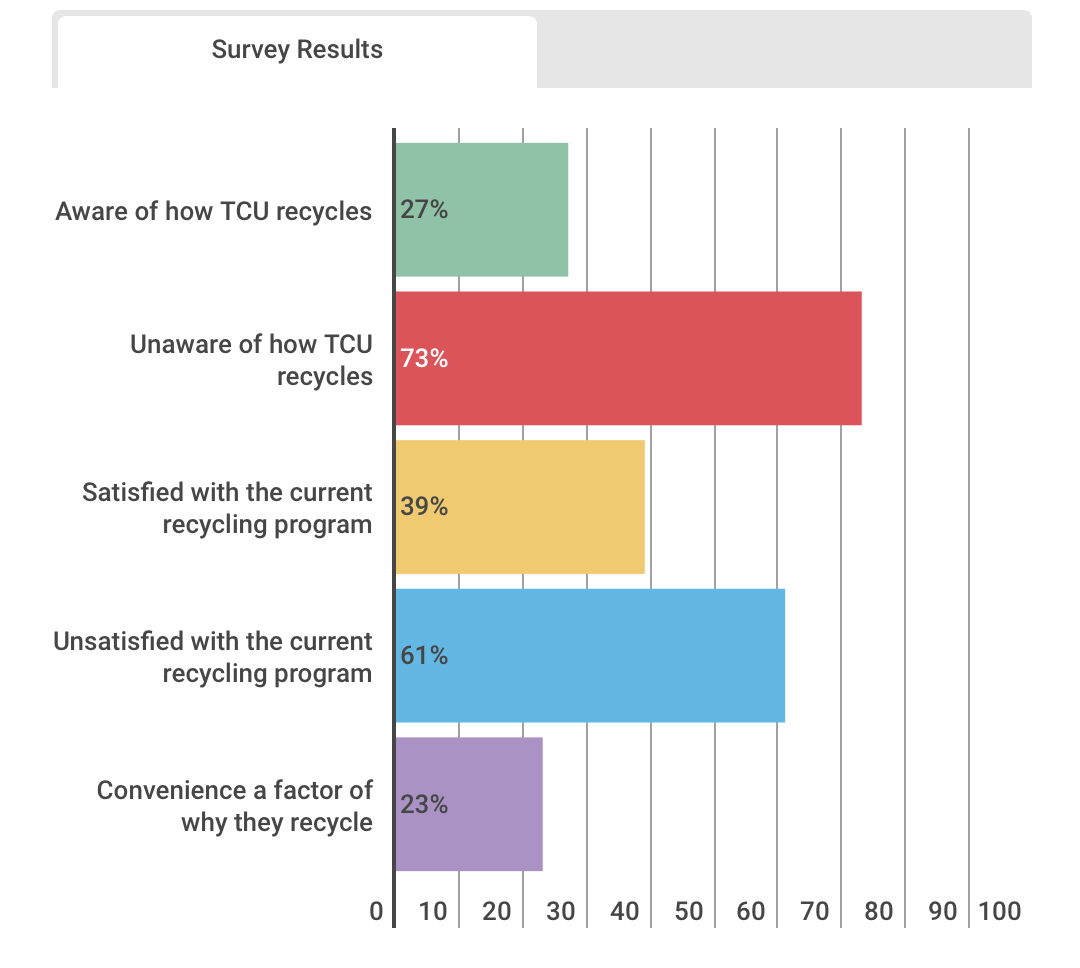 "TCU is greener than you think," said Chris Honkomp, assistant vice-chancellor for facilities. "We do a lot of invisible projects that we don't get credit for."
The Physical Plant team is responsible for making upgrades and improvements to campus buildings, landscaping and maintenance practices in order to make TCU more efficient and sustainable.
Last November, the Physical Plant purchased 50 new recycling bins for $70,000, Honkomp said.
"We spend more money than other universities with a similar size and make-up," he said. "But it's worth it because it's the right thing to do."
With 20 years of experience in energy management, Honkomp said the behavior change is the hardest part.
"Recycling is the toughest to implement because it includes participation and cooperation," he said.
Macias said the additional bins are just beginning to make progress in recycling.
"Part of the problem is not having a recycling bin next to each trash can," she said.
Honkomp said many students are unaware that TCU participates in the "Green" building effort through the Leadership in Energy and Environmental Design (LEED) program administered through the United States Green Building Council.  
The new construction standard plans to exceed the silver level in the Greek Village, School of Music, College of Fine Arts and Neeley School of Business, meaning these buildings are more energy efficient, he said.
According to Honkomp, invisible sustainability projects that don't require student cooperation include:
The new street lighting system that uses 1/10 of conventional energy

An energy efficient central AC chiller plant rather than a unit in each building

Land evaporation weather coil moisture that tells sprinklers when and when not to run

More drought tolerant plants, native trees and grasses help conserve the water usage

Monitoring water use in residential halls and buildings

Replacing the shower heads and sinks with flow heads that help conserve water

Performing tests to observe which bins are not being used as much to consider relocating or labeling
TCU has formed an ad-hoc sustainability committee to research what the university has accomplished in sustainability and make recommendations for future actions.
"They likely recommend the need for an official sustainability coordinator, as TCU is one of the few that does not dedicate staff to address sustainability on campus", said Keith Whitworth, a sociology instructor who specializes in sustainability and the social impacts of technology.
Honkomp said there is no central office or program coordinator, which makes efforts harder.
"We need the website, articles and advertisements up to date to communicate so students know the efforts and feel better," he said. "This is part of the problem of not having a program coordinator."
Macias agreed. "TCU has a long way to go in the being green area by elevating awareness of our current sustainability wins and fails if more resources could be allocated to sustainability," she said. "A coordinator could help sustainability be sustainable."
Christian Nguyen, ROXO's account executive, explained the agency's involvement as a goal to raise awareness to students.
"The challenge is to make things convenient and visible, as a lot of the sustainability plan is invisible," he said.
He added that ROXO works to revamp ideas and are involved in planning a sustainability awareness event after spring break.
Honkomp revealed the possible next steps for sustainability on campus:
Collect compost materials of food waste from Brown-Lupton University Union

Put energy solar panels on the parking garages and University Recreation Center

Engage in aggressive recycling for a zero-waste game day