NIT's Most Outstanding Player could be even better next season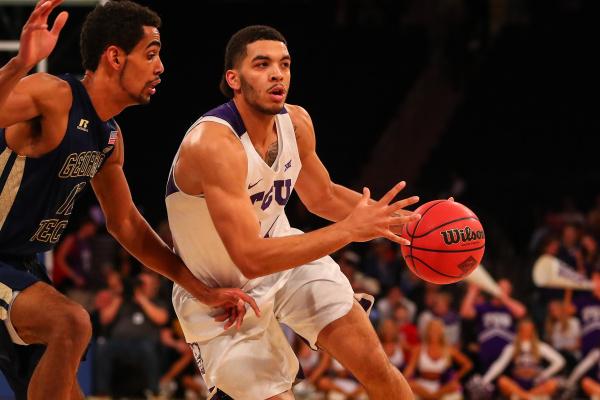 TCU guard Kenrich Williams exploded in postseason play, leading the Horned Frogs to a National Invitation Tournament Championship. Head coach Jamie Dixon said, however, that fans shouldn't consider this to have been a breakout year for the junior.
"He's just now getting his legs under him and getting game-like conditions," Dixon said.
Williams was sidelined his sophomore year after knee surgery, so expectations coming off the bench this fall were modest.
"Obviously we knew he was a good player but as the year's gone on, we've found better ways to use him in even better situations where we're even more comfortable and to be honest," Dixon said.
Williams wrapped up one of the most memorable stretches of on-court production in program history. He led the Horned Frogs to their first postseason tournament title. Williams, finished the season in the NIT averaging 15.6 points, 12 rebounds and five assists per game. He stepped up to be the playmaker when TCU starting point guard Jaylen Fisher went down with an injury.
At 6-foot-7, Williams heads into his senior season with NBA potential. Listed at 210 pounds this season,  a little extra muscle on top of his ball handling and ability to score, rebound, shoot three-pointers (36.3 percent this season) could make him attractive to NBA general managers.
During the NIT the Frogs averaged 80.4 points per game. When it was over, Williams led the Big 12 with 19 double-doubles.
"I think with Jaylen being out, I really had to step up and be more aggressive," Williams said.
Dixon is already making plans for the fall.
"His play down the stretch here has been unbelievable, and I've talked to him late in the season about, I can't wait to work with him in the off-season," Dixon said. "I can't wait to see him next year, what we do this summer with him, and his play has taken off."