Kenrich Williams cuts 'iconic' look, team has mixed reactions
TCU basketball guard Kenrich Williams showed up Saturday with the rest of the team to take photographs and sign autographs at the TCU football spring game, but something was missing.
The shag. The old school haircut that went out with the mullet was his signature style throughout the season.
"The shag is a business in the front, party in the back style that started in Dallas but moved its way to the Metroplex and Waco where I'm from," Williams said earlier this season.
Not many people rock the look. Williams said he ditched it because of its low approval rating.
"I cut it because all the girls and some of my friends don't like it," Williams said.
 His teammates joked that the cut could hurt Williams' on-court performance next season.
"You've seen Space Jam, right?" TCU guard Alex Robinson Jr. said. "We've gotta find that hair or else he might lose his superpowers." In the movie Space Jam, aliens steal the basketball abilities of NBA players Charles Barkley, Shawn Bradley, Patrick Ewing, Larry Johnson and Muggsy Bogues.
"That's [the shag] what allowed him to jump, and I don't know if he can dunk now," TCU guard Michael Williams said.
Kenrich Williams with the big-time and-one finish! pic.twitter.com/mefc2Qpj6M

— TCU 360 Sports (@TCU360Sports) March 31, 2017
Guard Josh Parrish said, "The shag was his sauce, and he lost his sauce, so he might need it next year, we'll have to see."
Parrish's roommates, Desmond Bane, Jaylen Fisher and Koaut Noi agreed.
"He might need to come back with the shag to finish the next season strong because it's his signature cut, he's got to have it," TCU guard Jaylen Fisher said. "He [Kenrich Williams] should've held onto to it, it has to come back," TCU guard Desmond Bane said.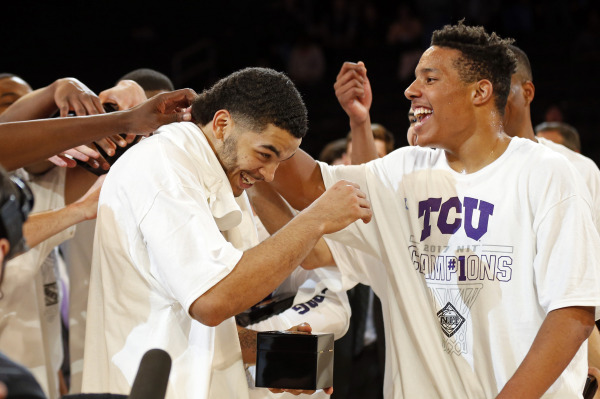 Dalton Dry, a teammate of Williams' for every season he's been on the team, echoed the freshmen's thoughts.
"It's a disappointment because I feel like that was the key to the triple doubles and double-doubles," Dry said. "I don't know if he can do all that without it." Williams totaled TCU's first triple-double in the NIT quarterfinals against Richmond with 11 points, 14 rebounds, and 10 assists.
However, other TCU basketball players don't think the lack of shag will affect Williams' game.
"He'll be even better next year, and I don't believe in stuff like that," TCU forward Vladimir Brodziansky said.
TCU senior forward Chris Washburn concurred.
"When it's time, it's time, and no it won't affect him," Washburn said.  It's always time for the shag to come back why not.
The emotional leader for the Horned Frogs in the 2016-2017 season, guard Brandon Parrish, sees the possibility for a new style to arise.
"It was a very iconic shag, and the shag was good for us, but it won't affect him on the court," Parrish said. "He might gain some powers from something new."
A few of Williams' teammates predict the shag will return.
"It's an awesome look that I think he'll grow it back," TCU forward Karviar Shepherd said.
Fellow forward JD Miller believed basketball will be more enjoyable to Williams with "the shag."
"I think he'll grow it back when I think he'll realize playing basketball is better with it," TCU forward JD Miller said.
But the shag might make another comeback.
"I'll wear it in season, but only during the season," Williams said.
TCU basketball players, coaches and fans alike can rest easy knowing they'll see the same Kenrich Williams next season.