Frogs defeat DBU 9-3, push win streak to 13 games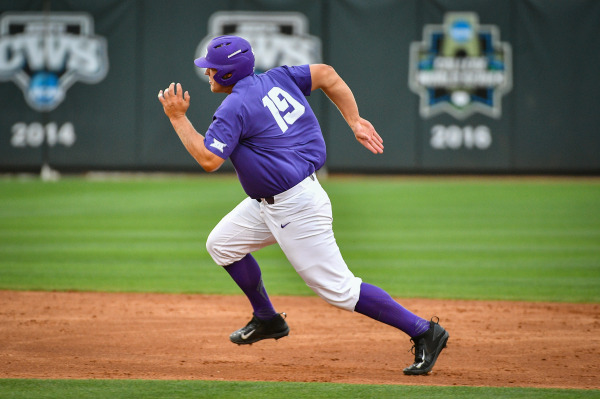 A 9-3 win on Tuesday night at Dallas Baptist, backed by a homer from sophomore Luken Baker and a solid start from senior Mitchell Traver, extended the Horned Frogs' winning streak to 13 games.
The win streak matches the school's longest under head coach Jim Schlossnagle. The other one spanned from April 15 – May 9, 2014.
After a three-game series sweep of Murray State that saw the Frogs score 37 runs, the TCU (27-5, 8-1) offense continued to roll with nine runs and six walks en route to a six-run win.
The scoring got started for TCU in the top of the second inning, as Baker hit his team-leading seventh home run, putting the Frogs ahead for good. Baker's homer moved his hitting streak to 13 games.
Traver got the Tuesday night start for the second straight week after missing an extended period of time due to injury. Last week against UT-Arlington, Traver went two shutout innings to pick up his first win of 2017 and struck out four of the nine batters he faced.
Traver moved to 2-0 with four scoreless innings against DBU. He recorded five strikeouts and gave up just one hit.
The Frogs extended their slim one-run lead in the top of the fifth. Senior Nolan Brown led off the inning with his first of two doubles in the game. He then stole third and scored on a groundball by senior Elliott Barzilli. Senior Ryan Merrill singled on the next pitch and advanced on three wild pitches to plate TCU's third run of the night.
Freshman Trey Morris entered the game for the Frogs in the bottom of the fifth and preserved the 3-0 lead.
Singles by senior Cam Warner and junior Evan Skoug helped TCU push across another run in the sixth, as a throwing error allowed Warner to score from second on a fielder's choice.
Morris came back out for the sixth in a four-run game, but surrendered two runs. A single, double, ground out and error on Merrill allowed DBU to cut the lead in half. Sophomore Sean Wymer came in to get the final out of the sixth, getting a strikeout with two runners in scoring position.
TCU answered with two runs of its own in the top of the seventh behind three walks, an RBI ground out for Warner and a sacrifice fly by Skoug. Warner's RBI extended his team-high number to 34, four better than Skoug's 30.
After DBU scratched a run across in the bottom of the seventh off of Wymer to make the score 6-3, TCU added three in the eighth to pull away from the Patriots. The Frogs picked up a run on a Barzilli single and two on a two-out, bases-loaded hit by junior Austen Wade.
Sophomore Dalton Brown pitched a 1-2-3 eighth, and sophomore Durbin Feltman struck out two in a scoreless ninth.
The Horned Frogs will now head to Morgantown, West Virginia to square off with the West Virginia Mountaineers (19-12, 6-3) in a three-game Big 12 Conference series. First pitch for game one is set for Friday at 5:30 CST.