Men's tennis clinches consecutive Big 12 titles with win over No. 4 Baylor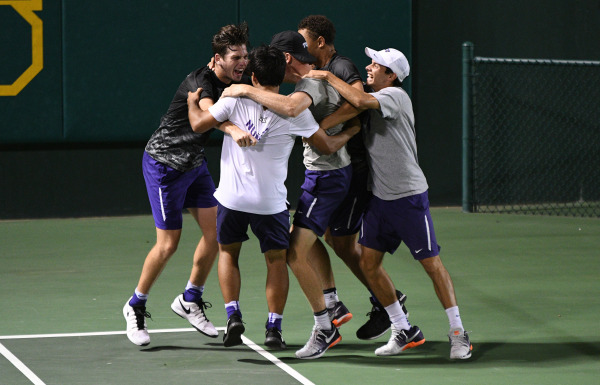 For the second year in a row, the TCU Men's Tennis team is walking away atop the Big 12 Conference.
The No. 9 Horned Frogs defeated the No. 4 Baylor Bears 4-1 at the Hurd Tennis Center in Waco, Texas Wednesday night, clinching their second Big 12 title in as many seasons and extending their win streak to 11 straight matches.
"This is a tough place to play and a lot of things have to happen," TCU head coach David Roditi said. "You have to compete really hard, be really tough mentally, be resilient and you need the support to be able to win such a big match here. For that, I am really proud of our players. They deserve this."
The Frogs jumped out to an early 1-0 lead after the pairs of Cameron Norrie and Trevor Johnson, and No. 34 Jerry Lopez and Reese Stalder, recorded respective 6-2 and 6-4 wins. The Frogs extended their lead to 3-0 after No. 27 Alex Rybakov defeated Baylor's Johannes Schretter 6-2, 6-0 in singles and Johnson defeated Constantin Franzen 6-3, 7-6 in dual match play.
"For Rybakov to get off the court against a guy that hasn't hardly lost all year was great for us," Roditi said. "Trevor Johnson winning that tiebreaker and getting us to three put them in a really tough spot."
Baylor got a point back with a three-set win, but Norrie, ranked No. 2 in the nation, sealed the deal for the Frogs by recording three aces in a win over No. 13 Juan Benitez .
"I couldn't be happier and I couldn't be prouder," Roditi said. "This is for all the Frog fans out there that put up with us for the last few years and allowed us to get to this level. I am really proud of our guys and our fans and our program."
Having improved to 16-4, 4-0 on the season, the Frogs will wrap up their schedule on Saturday when they play host to No. 7 Texas at the Friedman Tennis Center. Match time is set for 1 p.m. CST.