Sorority raises money for Ronald McDonald House
A change in fundraising tactics by a TCU sorority netted its philanthropy 35 times more in donations this year than last year's effort.
Alpha Delta Pi raised more than $14,000 this spring at ADPICNIC for Ronald McDonald House of Fort Worth. This is 25 percent of the total amount the sorority raised between 2001 – 2016.
The money raised helps pay for extra costs not covered by the Ronald McDonald House's (RMH) current budget of $2.5 million.
Grace Pecoraro, ADPi recruitment and marketing vice president, helped decide to change the event. She wanted to create a family-friendly philanthropic fundraiser.
ADPi members sold tickets for food as well as had lawn games, music and face painting available for everyone who attended.
"Overall, it's a celebration for the Ronald McDonald House," said Pecoraro.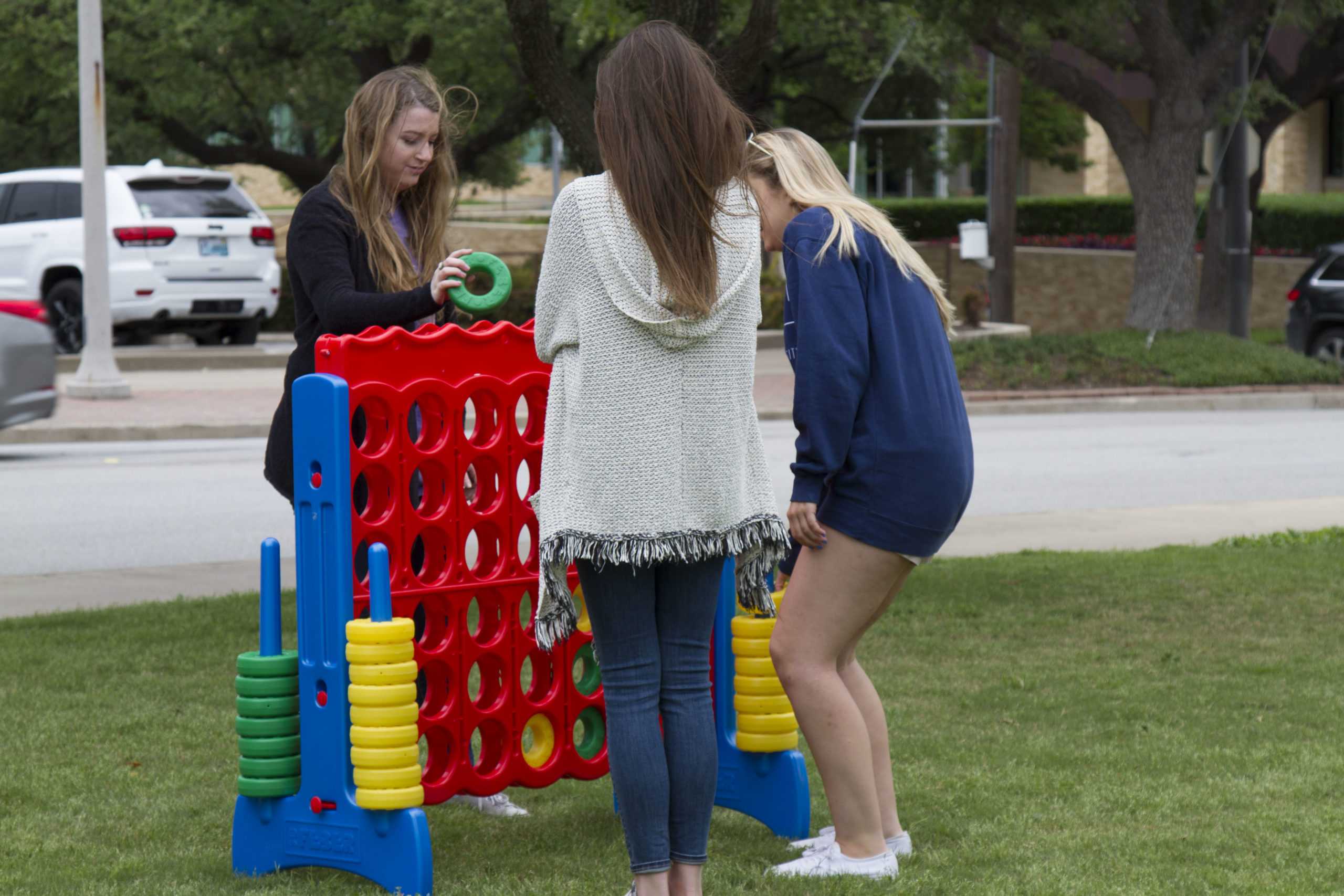 Pecoraro wanted to create a tailgate-esque event, in which they hosted outside the King Family Commons before the TCU vs. Baylor baseball game last Saturday.
Peceraro said the event helped not only RMH, but the sorority bond too.
"Having the philanthropy we have really helps brings our sisterhood together," she said. "It helps create a sense of unity."
Brittany Gloria, a member of the young professional's group that volunteers at the RMH house, said she was glad to see the turnout, despite the gloomy weather, and all the effort the ladies put into the RMH.
"It's so easy to get caught up in school and life," Gloria said, "so it's nice to see that they're wanting to give back and help with other families in the DFW area."
Pecoraro said that ADPi members volunteer at the house about every other week. They play with children and serve meals to families staying at the house.
Since its opening in 1981, the 55,000 square foot house has served as a lifeline for families of critically ill children who are hospitalized in the city. In 2016 alone, 947 families stayed at the Fort Worth House.
When families stay at the house, they are given food, a place to do laundry and a place to stay in one of their 58 rooms.
What staff members and volunteers strive to show is that RMH is not just a building, but a home-away-from-home.
"We really are a support structure for the families," said Beth Lamb, chief marketing officer at Ronald McDonald House of Fort Worth.
Lamb said that everyone there works to create a stress reduced environment so that the families can focus more on the health of their child and not worry about some of the additional stresses of being away from home and the burdens it comes with, particularly the financial burden.
At the end of each stay, families are asked to give a $20 donation per night that they stayed.
Lamb says sometimes families can pay, but sometimes they can't. But she adds that they work to never turn away families.
Hannah Llach, communication coordinator for Ronald McDonald House of Fort Worth, said working with all the families is such a rewarding experience.
Llach, a TCU alum, said her family had volunteered at a RMH in Bakersfield, but it wasn't until she started working at the house in Fort Worth she saw the real impact it made
"Their gratitude for our staff, volunteers and donors is unmeasurable," she said. "It's given me a new perspective and purpose for my everyday life."
Lamb said she working at the house has taught her life lessons. She told one story about a five-year-old boy, who was battling cancer, running down the hall by her office saying "giddy-up Bullseye."
"He's dealing with some of the hardest things in his life, and yet he's infused with a joy," she said. "And so if he can have that, then I certainly can. It teaches me to be strong."
Even though she is not on staff at RMH, first year ADPi member Marissa Wells, said she sees the impact it has on the community, as well as other members of ADPi.
"We are a very diverse group, but one of the things we have in common is our passion for our philanthropy," she said. "It's just a lot of fun to be able to go and see and work with the people that you're raising money for and just seeing the cause with your eyes makes such a huge difference."